Leverage Your Data to Discover Hidden Potential
The amount of data in the insurance industry is exploding, and the number of opportunities to leverage this data to achieve large-scale business value has exploded along with it. Rapid integration of technology makes it possible to use advanced business analytics in insurance to discover potential markets, risks, customers, and competitors, as well as plan for natural disasters.
Insurance companies have been turning to external data sources, such as social media, to add more information about a claimant or injured party. However, there are limits to this.
With data analytics driving virtually every aspect of the insurance business today – from premium pricing and customer experience to claims management and fraud prevention – insurers need the right analytical tools and methodologies to access relevant data to make smart decisions.
This is where insurance data analytics come in.
---
What is Insurance Data Analytics? What Can it Offer You?
---
Insurance data analytics is the process of collecting, analyzing, and extracting relevant insights from various data sources to manage risks for insurers effectively. The primary goal is to reduce costs, optimize customer relationship processes, and use predictive analytics in insurance models to create reliable reports.
Here are the key reasons why insurers should use data analytics:
Preventing Fraud

Preventing insurance fraud is one of the biggest drivers of using insurance data analytics. Sophisticated data analytics tools help insurers identify whether an applicant is likely to make a fraudulent claim by studying the applicant's historical data or past behaviors.

The tools also identify past convictions for fraud and an applicant's criminal records. Such predictive modeling methods – which utilize machine learning and artificial intelligence – enable agents to make decisions about issuing policies or rejecting claims.

Risk Assessment

Insurance data analytics enables detailed risk assessments. Through big data analytics, insurers can identify the amount of risk presented by each applicant before making a decision about issuing a policy by again by sourcing crime databases, but also investigating social media accounts.

Identifying new markets and competitors

Through data, insurers can identify behavior patterns and common characteristics to target their marketing efforts. Because insurers can anticipate trends before they happen by using predictive analytics, they can position themselves to outsmart the competition.

Streamlining Insurance Activities

Data analytics optimizes the internal insurance-related processes. For example, analytical tools can be used to assess customer feedback and check customers' responses to various policies, sales techniques, and promotions, enabling insurers to make informed decisions.

This also helps leadership identify skills gap areas that require training. Analytics helps agents in the field maximize their productivity.

Customized Policy Offerings

Data research helps insurers offer customized policies that are aligned with prevailing trends at a much faster rate. Data algorithms can assist with customer retention by predicting which plans would benefit individual customers. And they give insurers a comprehensive view of each applicant, giving agents actionable insights based on the prospective client's insurance history.

Subrogation Cases

Subrogation – one of the biggest pain-points for insurers – lets an insurer pursue the person at fault to recover money paid out for a policyholder's claim. Such claims are common in auto, health, and homeowner insurance.

Data analytics can trawl through the unstructured data of police records, medical records, and adjuster notes to identify subrogation opportunities, which saves insurers large sums of money by reducing loss expenses.
---
Predictive Analytics
---
Predictive analytics can be an incredibly powerful and valuable tool if used effectively, helping you identify patterns, possible future scenarios, and actionable insights.
Our research below shows that digital champions (the 7% of companies that succeed with digital transformations) are way ahead in applying predictive analytics models to their data.
Trends: The Use of Data by Digital Champions vs. Industries Overall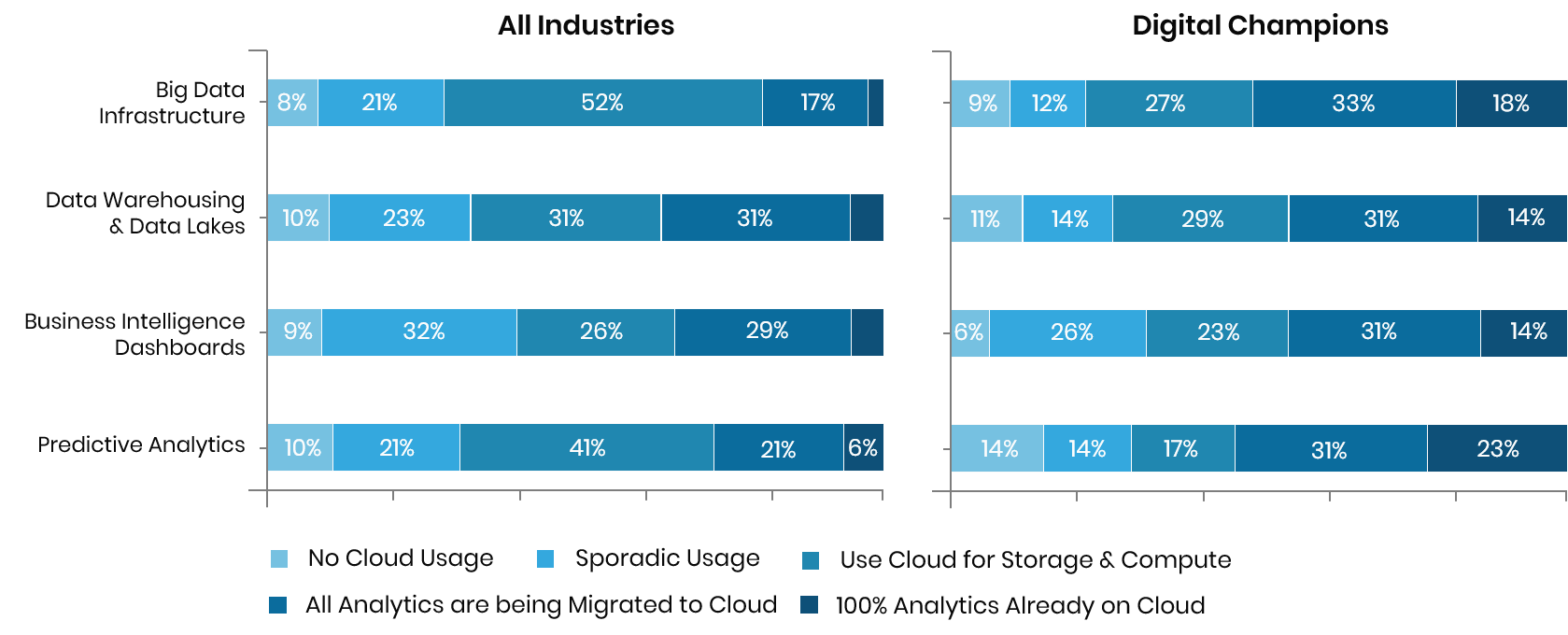 Copyright © 2021 Trianz
---
Uncover Actionable Insights With Best-in-Class Services
---
Trianz offers the following to our global insurance clients:
Claims Analytics

The cost of processing claims has a large impact on any insurer. In addition, the costs of fraud and litigation make claims more expensive. We provide end-to-end claims analytics solutions to accelerate claims processing and reduce the risk of fraud. Our offerings include data mining, data visualization, forecasting, and optimization.

Fraud Analytics

Fraud costs organizations billions of dollars each year, and early detection is key. Our comprehensive fraud analytics solutions leverage text mining to tap both structured and unstructured data – such as claim notes, call-center notes, medical reports, police reports, e-mails, and web-based content – to highlight anomalous transactions.

Subrogation Analytics

We use predictive analytics to identify subrogation opportunities to help you increase your yield in the arbitration process. Our subrogation analytics solution leverages advanced text analytics and predictive modelling to discover data, patterns, business rules, and other related characteristics to drive successful subrogation recovery.

Customer Analytics

Our customer analytics solutions enable your sales and marketing teams to leverage the power of your own customer data for effective resource allocation. Our data models can help you gain valuable behavior insights, improve interactions, and identify your highest-value customers for cross-selling or upselling opportunities.
---
Partnerships for Improved Performance and Smarter Decisions
---
We collaborate with a global network of market leaders and innovators to unlock the explosive potential of data for you.
---






---
Discover Your Data Potential with Insurance Data Analytics
---
Thanks to cloud-based technology, you can conveniently access data insights through an intuitive web-based user interface. When you leverage the power of data analytics, you can focus on your core business, enhance your organizational efficiency, and improve day-to-day decision-making. Doing so ultimately impacts the bottom line.
Finally, with predictive analytics, you are better equipped to compete in the marketplace as a direct result of increased customer satisfaction.