Applications for the ITIL Framework
---
ITIL offers targeted guidance for businesses looking to improve their service delivery performance. Our experts follow the five stages of ITIL whenever they perform these consulting services for clients.
The following five ITIL stages can have a significant impact on your ITSM initiatives:

Service Strategy
Execution without a plan is often a remedy for failure. ITIL offers guidance on designing, developing, and implementing ITSM functionality that guarantees your customers are served well. The focus with this stage is to create business advantages through product-and-service differentiation from competitors, while simultaneously managing ITSM security and compliance risks.

Service Design
A well-designed ITSM solution will prepare your business to tackle customer concerns with minimal fuss. This stage helps to prepare key stakeholders and IT professionals by implementing ITSM policies and strategies that minimize ITSM risks for your business. Our experts place a heavy emphasis on this stage with our ITIL consulting services.

Service Transition
Change management is an integral part of ITSM, and ITIL has a dedicated stage for this. Service transition planning allows IT professionals to efficiently shift to new services while minimizing business continuity risks as they complete this work. This also encapsulates the integration of existing business services with changed services, minimizing internal and external service disruption.

Service Operation
The service operation phase covers the ongoing maintenance and troubleshooting of ITIL-based services, offering guidance relating to IT operations management (ITOM) for IT professionals. This includes adherence to customer and external stakeholder service level agreements (SLAs), along with maximizing service reliability, performance, and cost-effectiveness.

Continual Service Improvement (CSI)
The CSI stage helps your business adapt to changing requirements and needs, in alignment with the ITIL framework. During periods of significant business change, this stage helps you monitor and proactively remediate diversions from defined processes. Even without significant changes occurring, the CSI stage aims to continually scrutinize and improve upon existing ITIL processes, creating a culture of constant improvement.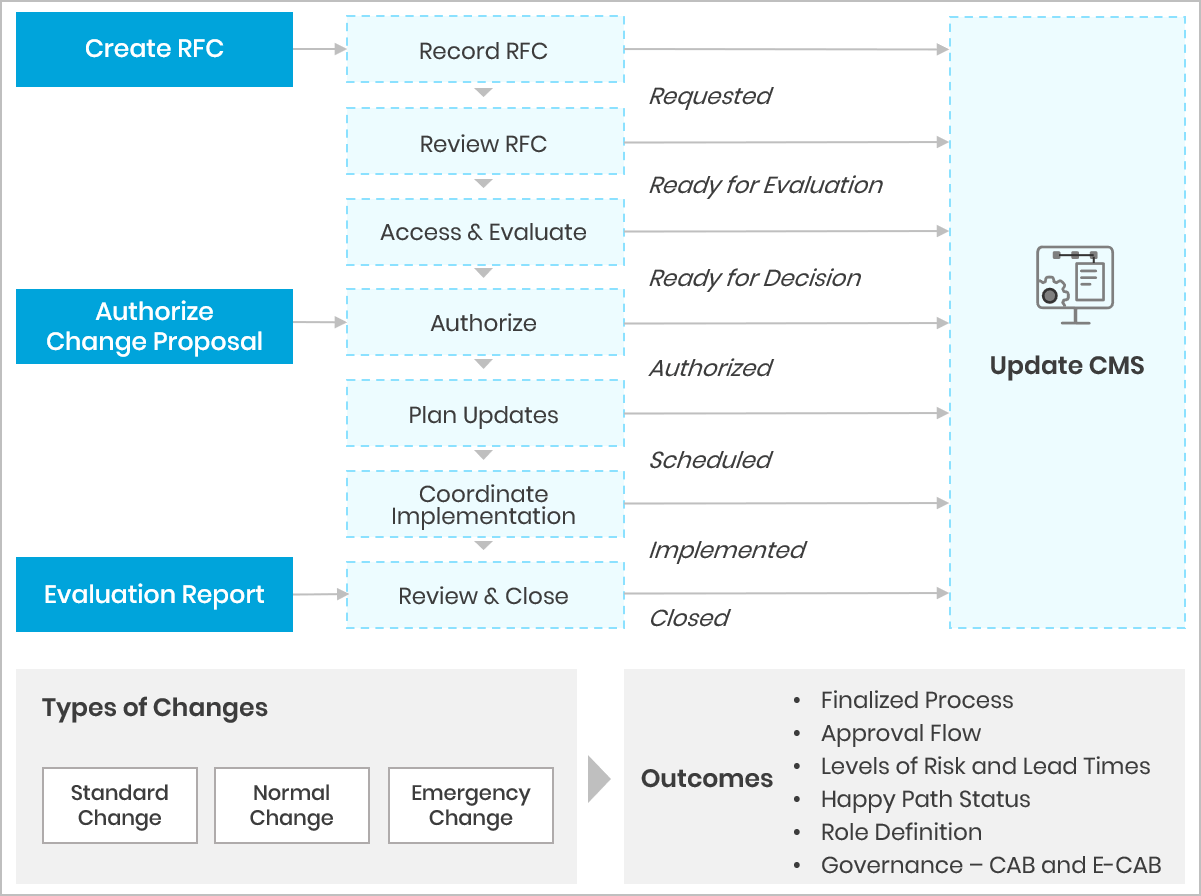 Copyright © 2020 Trianz
Transformational Effects with Trianz ITIL Consulting Services
---
With the ITIL framework in place, your enterprise will notice numerous improvements in streamlining entire IT Operations:

IT Engagement
While IT professionals will be fully engaged with your IT policies and procedures, other staff may lack engagement. With ITIL, you can create policies, procedures, and guidelines that are easily communicable across the entire business. This serves to drive employee IT engagement and increase awareness of their impact on enterprise ITSM.

ITSM Visibility
Seeing is believing, and visibility into the status of your ITSM gives the insight needed to improve your services. The ITIL framework focuses on improving the availability of information on IT expenditure and resources, helping you to optimize your ITSM and generate more value from existing services.

Improved Service Environment Stability
Your customers expect reliable and responsive digital services, but business change can put this at risk. With rigid adherence to the ITIL framework, your ITSM services will be more resilient in the face of business change, protecting the interests of your customers.
Trianz ITIL Consulting Services
---
Our experts are ITIL-certified, with a broad understanding of ITIL best practices. This allows them to collaborate with stakeholders across your business and devise policies and procedures at the service-level that support your business objectives. All of the above serve to improve customer satisfaction and cement your position as a digital service leader in your industry.
Our ITIL consulting services offering include:

Current state analysis

Scenario-based approach for definition of target state processes

Process definition and alignment based on ITIL best practices framework

Process implementation

Recommendations for continuous improvement
Contact us to see what ITIL can do for your business.
×