Communicating a Change in Culture
---
Telecom companies prioritize customer service and support, sales and channel enablement, and back-end processes for developing digital transformation strategies at the enterprise or business level. This indicates an industry preoccupation with customer acquisition, growth, and obsession with customer service and support.
The overall approach of telecom companies, however, lacks consistency in customer value enablement functions (HR, finance, accounting) when compared to the Digital Champions. Digital Champions think about the potential of digitalization across all dimensions (customer experience, brand, loyalty, growth), efficiency of back-end operations, employee experience, and finance.
Consequently, a majority follow rigorous strategy development across the enterprise or within the function. In all these cases, it is the business functions and leaders that lead the development of vision, strategy, and execution plans.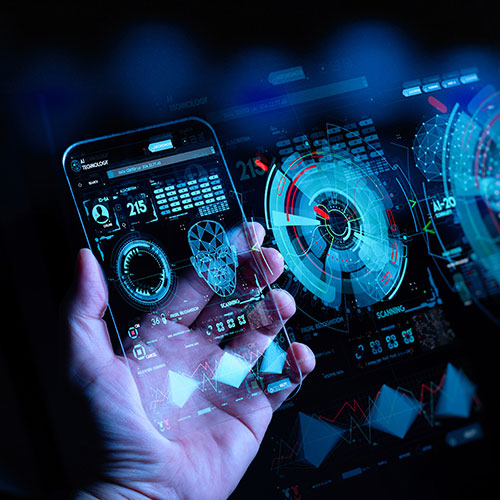 ---
Top Concerns for CEOs in the Telecom Industry
---
The next generation of telecom CEOs will be defined by who acts aggressively, risking short-term advantages to seize long-term market growth. To understand the changing environment, here are the top five concerns that CEOs will need to address as the industry accelerates into the digital era.

Shifting Digital Priorities
People and businesses shifting to digital means to manage their workloads have led to an unexpected surge in fixed and mobile network traffic and access demands. To address this unprecedented situation, telecom network operators must increase bandwidth and leverage digital technologies. This is a huge opportunity in the industry.

Customized Service Offerings
Telecom CEOs will need to focus on cutting-edge technologies, aggressively monetizing infrastructure investments, and learn from the examples set forth by the hi-tech industry. Technology is inevitable, but disruption can be mitigated by new, customized offerings to enable seamless interaction with users while still moving forward with business processes.

Talent Acquisition
With the challenge of keeping workers connected, CEOs will need to address the systems that streamline collaboration. Maintaining workplace security while simultaneously opening new channels of communication will be key to retaining the top talent in today's rapidly changing workplace environment.

Supply Chain Disruptions
The pandemic has shown that CEOs will need supply chain contingency plans in place to meet customer demand. Developing a proactive and data-driven approach will help identify potential vulnerabilities and choose the best alternative sources to safeguard the organization from supply-chain disruptions.
Cyber Security Threats
With the reliance on connectivity growing daily, telecom CEOs will need to ensure they take the right steps to safeguard themselves and their customers from security threats. While no organization can eliminate the risk of security breaches, seeking out the right third-party Managed Security Providers (MSPs) will help telecoms strengthen their threat monitoring and alerting capabilities while meeting compliance standards.
---
Design Thinking for Innovation in Telecom
---
Design thinking is a method used in ideation, solving problems, and software development. It consists of an iterative design process with five major steps: empathize, define, ideate, prototype, and test. Design thinking compels teams to think about solutions from a user/stakeholder point of view (not a technology point of view). This approach guarantees a validation of the need or value and sets teams down the right path to develop the right form factor and experiences.
However, given the low levels of investment in digital technology foundations, telecom companies are limited in the effective use of advanced technologies to select initiatives. Few technology areas such as IoT, RPA, machine learning, and design thinking have been used to create new business models, products & services, and customer service and support.
---
The Most Successful Digital Transformations Are Powered by Analytics Capabilities
---
Our benchmarking services are powered by over 1.5 million data points in addition to our primary research and data collection capabilities. With access to leaders across more than 40,000 companies in various size segments, industries, and geographic locations, we can quickly gather additional data to address how your business is performing against the competition.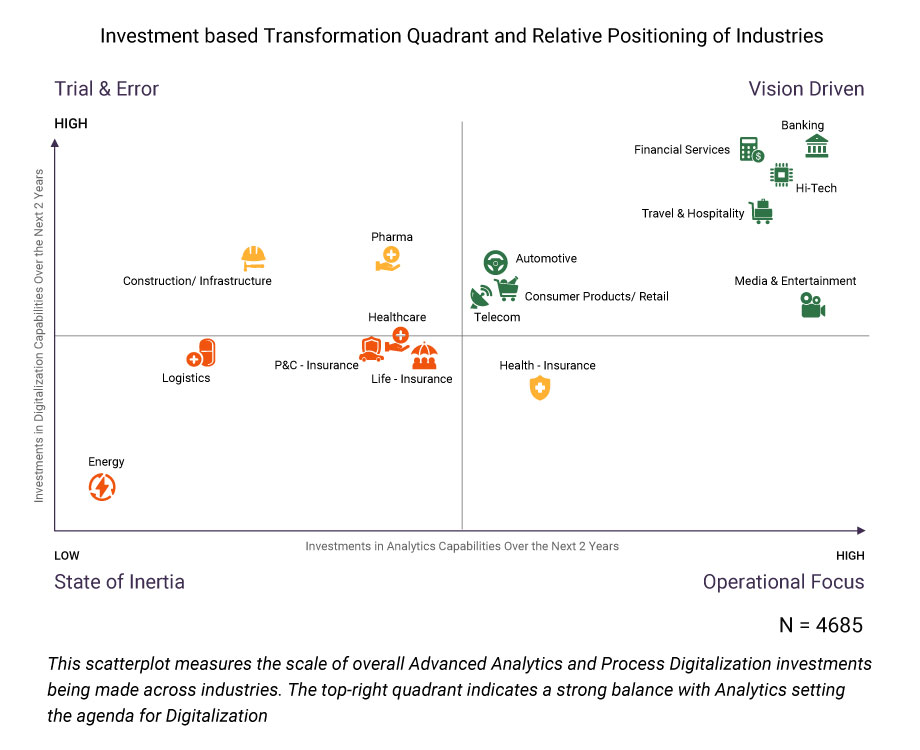 Source: Trasers
---
Data analyzed in this report comes from 4,000+ responses. For the telecom industry, data from 234 companies have been used.
---
Our telecom industry experts can offer insights into the following sectors:
Satellite telecommunications

Telecom carrier (wired and wireless)

Cable television service providers

Handset and telecom equipment

Telecom re-sellers

Ancillary services
×