Autonomous vehicle technology has been the talk of consumer technology circles for a while now. And rightfully so - it is considered one of the game-changers in the mobility space. It will not only drastically decrease the operational cost of mobility but also bring in multi-fold efficiency in vehicle utilization, parking space demand and even change the way the urban metro landscape is organized.
While this is arduous and high stakes challenge with complex problem-solving in machine-learning & automation, many of the techniques being designed can be easily extended to other fields to achieve unprecedented benefits.
One such avenue for applying the state-of-the-art automation principles is the Enterprise Cloud operations space. Automation in the Enterprise Managed services has always been a high-hanging fruit and understandably so. Earlier organizations had a wide range of service offerings available at a fraction of the on-prem infrastructure cost. The resource demand was proportionally scalable with infrastructure upgrade, and there was a high demand for end-to-end control and easy visibility of the infrastructure performance and maintenance. The entire operations arena was process driven with incremental changes.
As more organizations started their cloud journey, the need for know-it-all personnel dependency reduced, increasing demand for more specialized operations resources. The high flexibility and scalability demanded a more agile workforce that is less responsive and more proactive.
Trianz has been a pioneer with the foresight to bring forward an operations-focused cloud management platform - Concierto.cloud. With the same foresight-driven, future faced methodology, Trianz is pushing the boundaries with a zero-touch automated support philosophy.
There are a lot of problems with the current approach to managed services:
Operations have often been associated with firefighting. A traditional reactive and responsive approach to operational issues is no longer feasible.

Attention is the most precious resource. Focus is even harder in cloud operations with distributed infrastructure and a corresponding array of specialized monitoring applications.

Operations resources are trained to ensure things are stable. That means higher resistance to changing the status quo.
Concierto.cloud carefully navigates these challenges by closely tracking the developments in other industries, while tailoring the use-cases specific to our requirements with the extensive experience and expertise gained in cloud transformation space.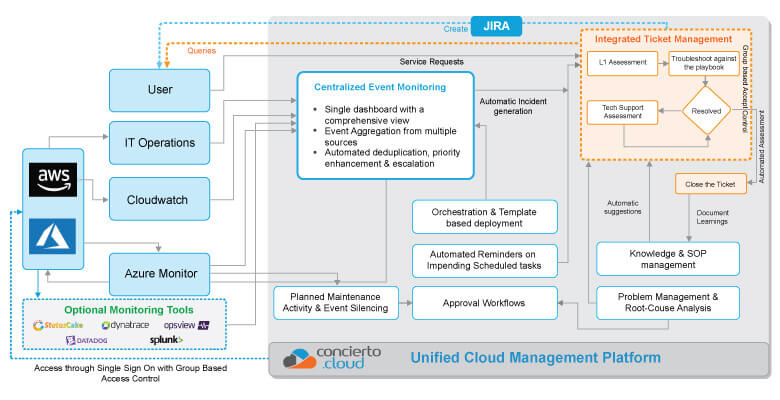 Here are some of the fundamental automation techniques that can be easily translated to the cloud operations world that can bring transformational efficiencies:
Pattern recognition & anomaly detection — It takes large sets of information as input and keeps track of the abnormalities.

Clustering-based grouping and scoring mechanisms - Unsupervised grouping mechanisms to identify common traits.

Decision matrix algorithms — Tracking the relationship between the sets of values and objects to assist in rapid decision making and quick turn-around.
The following picture illustrates the creation of a virtuous loop of pattern-based identification and solution mechanism that continues to learn and enhance itself with more input data: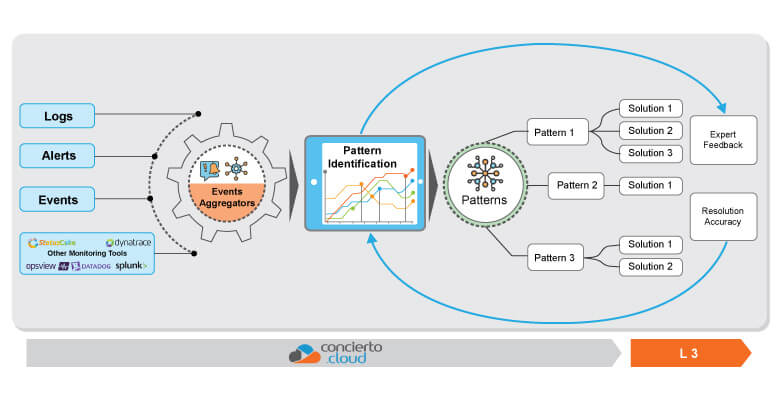 So how exactly does Concierto.cloud brings value to cloud operations by using the best and the latest automation principles?
It enables direct native integration with the cloud service providers, which essentially creates a virtuous loop of feedback-based small and marginal improvements that eventually lead to hyper-automation.

The platform's service intelligence monitoring capabilities include gathering data, intelligence and insights from heterogeneous monitoring and logging sources. By applying machine learning, the application provides suggestions to operators to resolve the day-to-day tasks and identify the root-causes of recurring problems by correlating information from across the application landscape.

Concierto.cloud's infrastructure proactive monitoring capability in a multi-cloud environment not only monitors but also predicts and preempts potential failures. The anomaly detection engine uses advanced statistical analysis algorithms to identify sudden surges rather than using more traditional threshold-based mechanisms to identify patterns.

The next frontier of the cloud management platform is possibly the configuration and change management with the ability to manage server images, automatic configuration post-launch, automatic demand-based scaling, patching, upgrades and rollbacks. And that is precisely where Concierto.cloud is focused on unlocking the benefits of the next stage of automation.
In the autonomous mobility space, there are five stages of automation defined, ranging from simple driver assistance to complete automation. We could do a lot more and achieve high efficiencies, reduce human errors by striving for even a similar level 3 or 4 automation in other spaces, which can be far more easily complemented with highly specialized human intelligence.
Automation in all walks of life is inevitable. Cloud transformation has accelerated the journey. In the post-COVID world, with tremendous shifts in ways people work, collaborate and coordinate, automation is more relevant than ever.