Beyond the Hype of Big Data
The continuous 24/7/365 onslaught of both structured and unstructured data has created unprecedented opportunities and major disappointment at the same time. While there has been no shortage of excitement around the emergence of big data as a source of competitive advantage, cutting through the hype and making data actionable has been a major source of heartburn for business teams.
Enlightened executives have come to understand that next to their people, data is their most valuable corporate asset. They know that leveraging a company's own unique data assets is the key to cracking the code and winning in the 21st century. To transform a company into a digital competitor, the CEO and their team should leverage technology to:
Drive revenue productivity

Improve operational efficiencies

Enhance the customer experience

Monetize data assets
Easier said than done. And as a result, the technologies associated with making big data actionable—i.e., organizing, analyzing, and creating useable output from it—have become a priority for global enterprises across all sectors. Managing and monetizing this "Big Data Tsunami" has become job No. 1 for many CEOs around the globe.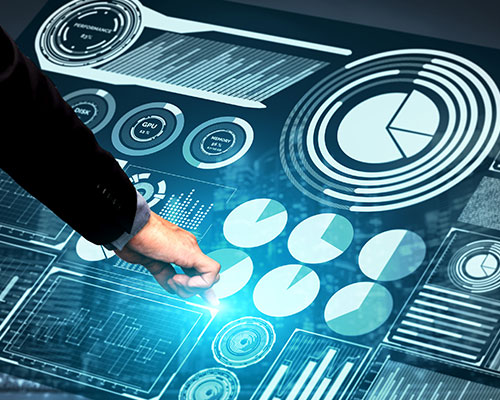 Also Read: Enterprise Data Strategy Consulting
Managing the Tsunami: The Rise of Data Analytics and Business Intelligence (BI) Tools
Becoming an analytics-driven enterprise is essential in the Age of Digital Transformation, where start-ups are emerging in every sector, taking share from established brands, and inhibiting legacy organizations' improvement in core KPIs.
BI tools collect, analyze, monitor, and predict future business scenarios by creating a clear perspective of all the data a company manages. Identifying trends, enabling self-service analytics, utilizing powerful visualizations, and offering real-time online analysis and insights for management decision-making are becoming the standard in business operations, strategic development and, ultimately, indispensable tools in increasing profits.
These tools include key features such as data visualization, visual analytics, interactive dashboarding and KPI scorecards that require minimal IT support. They allow business users to utilize automated reporting and predictive analytics in a self-service mode to operate the business and create the "analytics-driven enterprise of the future."
Many innovative software companies have combined individual BI tools into suites with complementary functionalities. These solutions have been designed to give executives a better overall view of how their business is operating today, with insights into how the business model will need to evolve over time in order to compete and win.
Today, the world's most innovative companies are using complex combinations of these commercially available suites along with their own proprietary data analytics to drive the performance of these bundled solutions to even higher levels. Innovative best practices are emerging every day, transforming these enterprises into digital competitors and leaders in their category.
Strategic Enterprise Intelligence: The Command and Control Center of the Digitally Transformed Enterprise
The below graphic is an illustrative example of a global 24/7/365, real-time BI suite-enabled command center. It allows the CEO to:
Upper Left - view sales and distribution data, operating performance data, and many other KPIs in real time

Upper Right – view the same data over a defined periods of time

Lower Left – see the data globally in all countries of operation in real time

Lower Right – predict required "next logical actions" and prescribe new approaches to product development, marketing, sales, distribution, and channel strategies.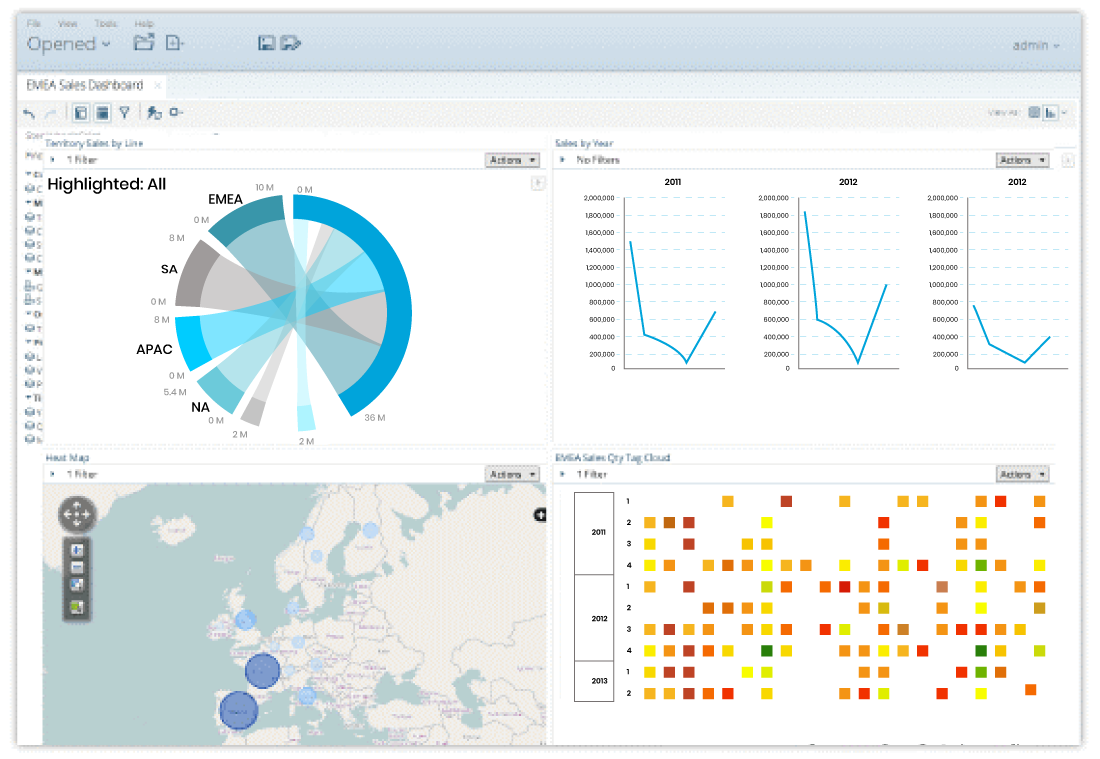 Data Analytics consists of four categories: 1) Diagnostic, 2) Descriptive, 3) Predictive, and 4) Prescriptive.
Diagnostic and Descriptive analytics tell the company what happened and why, while Predictive and Prescriptive analytics tell the company what to do and when to do it.
Properly integrated, a strategic BI solution can let the business both look "in the rearview mirror" (diagnostic and descriptive reporting) and "through the windshield into the future" (predictive and prescriptive actions). This allows the company to optimize its approach to customers, products, and markets, as well as drive core KPIs to new levels.
Benefits of Data Analytics and BI Suites
BI suites when integrated properly with other data and analytics assets, and organized for the unique needs of the business, can create a strategic enterprise intelligence system. In practice, BI suites must be properly integrated into the operating platform(s) of the business, touching other applications, portals, finance, operations, technology, service, sales, and marketing.
Typically, this requires an expert technology integration partner working hand in hand with the company. The following are selected benefits of integrated BI suites:
Data Consolidation Across Business Unit, Data, and Technology Silos—Single Version of the Truth at the Enterprise Level

Most companies have multiple business units and an ever-expanding array of channel touchpoints. Properly implemented, BI Suites powered by data analytics knock down silos and give the CEO a real-time operating view of the business.

Self-service Analytics Unlock Data Access So Data Can Be Monetized

Real-time, self-service analytics drives competitive advantage as each employee is equipped with the right amount of data analytics skills. This frees up data scientists to focus on the predictive and prescriptive analytics that can be embedded in operations to create a competitive, data-driven advantage.

Eliminate Manual Tasks

BI Suites reduce or eliminate manual spreadsheets by automating reporting and predictive analytics, reducing cycle time for reporting and prediction.

Reduce Costs

Real-time process monitoring drives unprecedented process efficiencies.

Real-time Access and Reporting

BI Suites are typically run in the cloud and in a Software-as-a-Service (SaaS) model, allowing for the 24/7/365 generation of insights.
The deployment of a strategic enterprise intelligence system will allow the company to achieve "Digital Champion" status. Digital Champions outperform digital laggards in almost all performance metrics across all industry sectors.
Expertise in Data Analytics and BI Suites
Trianz helps our worldwide clients to become digital champions and strengthen their competitive position in the Age of Digital Transformation. We are leading the industry in the deployment that transforms companies into digital champions.
Our expertise in data analytics and BI suites solutions is helping executives worldwide in solving their most complex digital transformation problems. Our business theme, "Accelerating Digital Evolution," reflects our extensive portfolio of services and capabilities covering business and technology evolutionary transformations. We boast a stellar track record of over 2,500 successful global client partnerships and engagements powered by innovative and futuristic methodologies.
Contact us today to discuss data analytics and BI case studies that apply to your business.