The Need for Master Data Management
A clean, non-redundant, and consistent source of enterprise master data is key to improved decision making, increased agility against competition, and better relationships with stakeholders. High-quality master data truly is the backbone of execution in any business organization.
Although this has been widely accepted, enterprises often find themselves with data that is fragmented and scattered throughout various corners of the organization. This inevitably creates the problem of decentralized ownership, which leads to data being inaccessible or inaccurate in various ways, producing insights that are unusable.
These issues underscore the importance of perfecting data quality by building a centralized, accessible repository of enterprise master data that will cultivate common definitions and create a single source of truth (SSOT). This is precisely why organizations we call digital champions have implemented master data management (MDM) systems.
What is Master Data?

Master data is the non-transactional data that uniquely defines your business; core business entities (customer, product), transaction descriptors, and reference data are all examples of master data.
Kicking Off an MDM Project? What to Consider –
Organizations embarking on a master data management system implementation have a lot to think about besides the nuts and bolts of standing up the platform. The following are additional thoughts that can be helpful for these types of projects:
Data Groundwork: Access and Optimization
---
There are two data groundwork activities that can be done early in the project – even before it starts – to help ensure project success. The first involves data access. This activity can range from setting appropriate permissions for the MDM project team ahead of time to tracking down obscure sources of master data (locally stored Excel spreadsheets, anyone?).
The other data groundwork activity is to eliminate any sources or subsets of master data that do not need to be considered for the new system. To this end, data profiling, identifying usage patterns, and consultation with the business subject matter experts will be time well spent. The goal is to cut down the noise and simplify the data migration.
Thinking Beyond the System
---
Understandably, the focus during MDM implementations will be on the tactical aspects of standing up a new platform, populating it with data, and getting other systems and people to use that data. MDM platforms are truly at the intersection of people, process, and technology; neglecting any one can jeopardize success. But an underrepresented aspect in all of this is change management. As people are being asked to interact with company data in new ways, it is critically important to show them the value and importance of why things are changing.
Ideally, the project would have begun with a clear business case (e.g., increase customer retention, reduce product categorization errors). Sometimes, however, that message gets trapped at the executive suite. It is important that all departments and levels are aligned on this, and that benefits are demonstrated down to a very granular level. In addition, make sure that the new owners of master data feel comfortable with the system; give them plenty of transition time to gain experience, ask questions, and identify any gaps. The more confident they are with the project and the tool, the better.
Master Data Management Components and Processes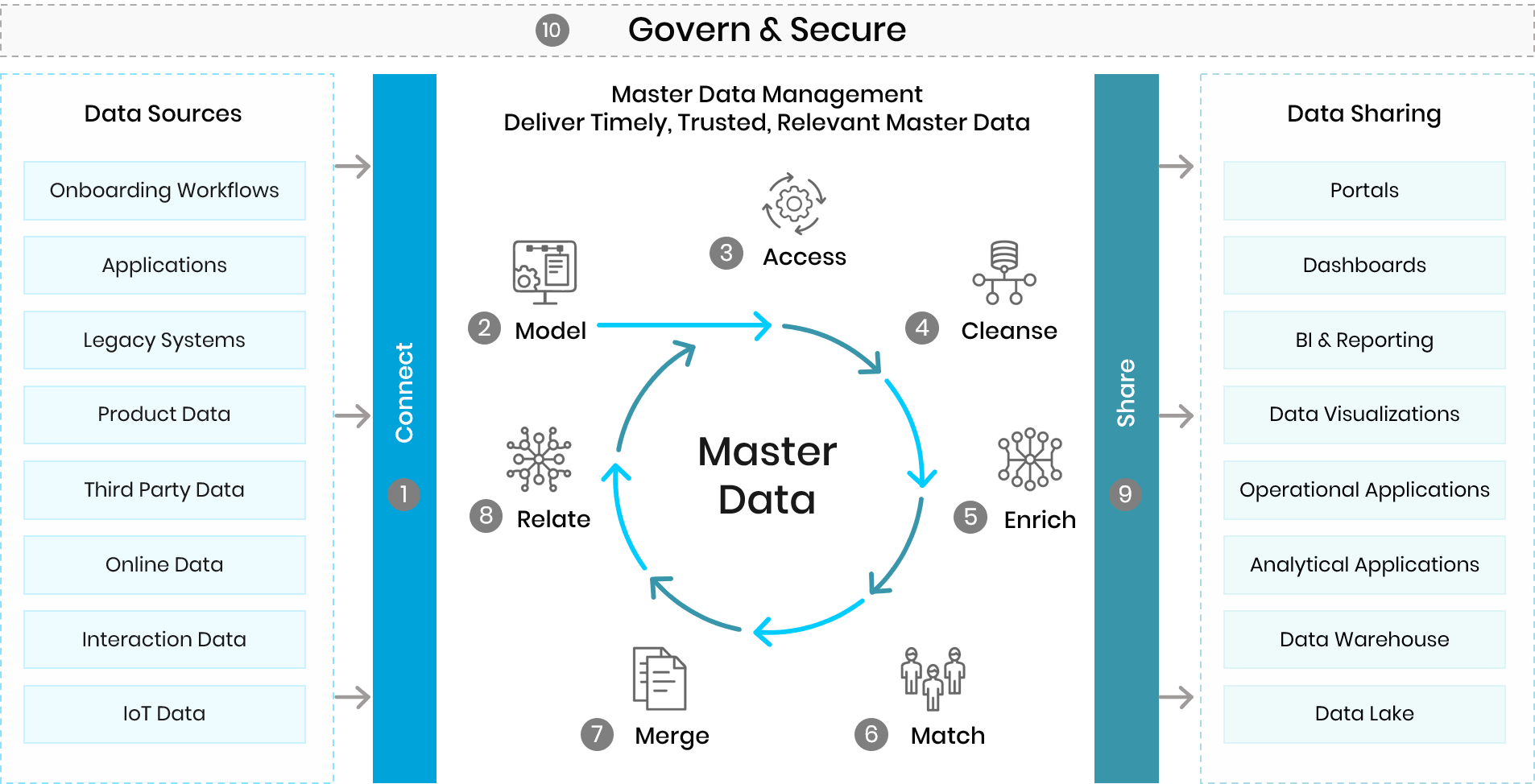 Copyright © 2021 Trianz
Governance Considerations
---
As mentioned above, the people and process aspects of MDM system implementations are critical success factors. Within the realm of master data, the pillars of people and process are known by the collective term "data governance." Data governance exists to provide a framework for effective decision making around master data. It establishes who can make the rules for company master data, which processes can ensure those rules are being enforced, and what steps are taken if the rules are violated.
If your organization already has an established data governance process, then great – you are ahead of the game. The MDM system implementation project just needs fit into or enhance the existing data governance framework. If your organization does not have a formal data governance process, or it needs improvement, now is the time. The best MDM system in the world will be ineffective if governance aspects are neglected.
Data Issue Triage
---
It is almost inevitable that one or more significant data issues will be uncovered during the MDM implementation project. Project managers and project sponsors should not only expect this, but should have a plan in place for how to handle it. The recommended approach is one of triage – understanding and classifying which data issues must be handled immediately, and which ones can be pushed off until the platform is live. For instance, getting duplicative data removed through an enhanced data matching strategy is a wonderful goal for a system implementation.
However, if achieving that necessarily involves a large, manual clean-up effort, project stakeholders may wish to delay that activity until post-launch. The guiding principle here is to not let "perfect" be the enemy of "good." Your focus should be on getting the system up and running while tackling easily achievable data goals. As the system matures, more complex or thorny data issues can be handled with time. This is where a project steering committee can play a vital role; making these types of decisions should be done transparently and with cross-functional agreement.
Key Takeaways
Keeping these MDM system considerations in mind will maximize the value your enterprise can realize when implementing a robust master data management solution. Critical to its success is having a holistic view of data management that comes from envisioning MDM as a fundamental element of organizational structure rather than "just another initiative."
Sustained involvement from senior leadership, a constant focus on business value throughout the process, and a thorough governance framework will ensure that your MDM strategy will bear fruit for the organization.
×