Cloud-based business intelligence (cloud BI) provides businesses with the data and applications they need to manage their organizations in the rapidly growing digital economy that is transforming business operations. As the digital economy comes of age, business leaders must invest in the technological advancement of operations and business intelligence to fuel growth, lower costs, drive innovation, and remain competitive.
Digital transformation and the revolution of cloud computing can provide essential cloud business intelligence and powerful analytic tools that offer support for system infrastructure, customer relationship management (CRM), enterprise resource management (ERM), and data management, as well as delivery applications.
---
Cloud Computing vs. Business Intelligence
---
Historically, businesses and organizations would download software, apps, and data to an on-premises infrastructure or their personal work computers. Businesses strategizing for the digital age now have the opportunity to use cloud infrastructure to support their operations. The value of cloud computing comprises the increased cybersecurity of your data, dedicated IT resources, the agility to meet the changing demands of the market, and the ability for growth at scale. IDC predicts cloud adoption and opportunities will expand to a $1 trillion market by 2024.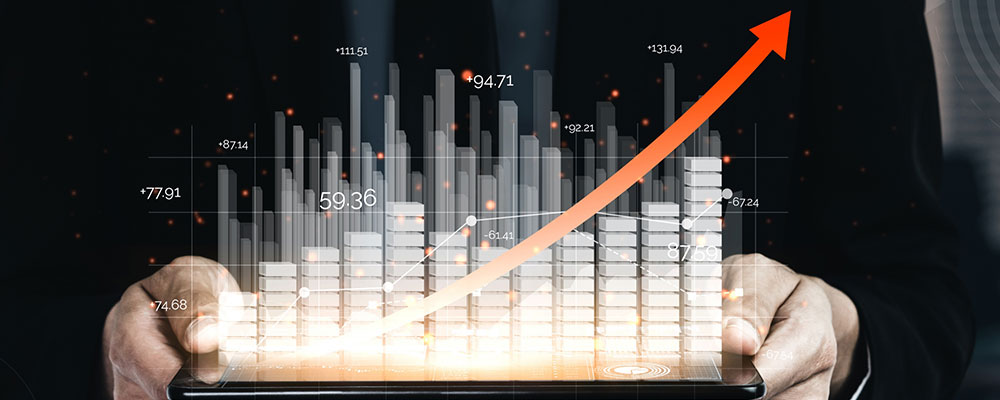 Business intelligence(BI) is a broad term that encompasses the procedures, tools, and infrastructure that collect, store, and analyze an organization's data. The collected data is then arranged into a usable form — reports, performance measures, or trends — that can be leveraged to create actionable and informed business decisions. BI does not directly instruct a business leader on the proper actions to take but provides the necessary insight into the operations of the organization.
Cloud BI utilizes cloud computing to benchmark data and gain BI insight. Executive decision-makers benefit from BI through cloud computing platforms because it helps them harness intelligence tools with greater agility and access, as well as a more comprehensive approach.
Also Read: Amazon QuickSight Consulting
---
How Can Cloud Business Intelligence Solutions Be Used?
---
One of the most effective uses of business intelligence is getting the right information to the right people at the right time. Cloud business intelligence offers a fast and reliable platform to access data with more flexibility — while cloud consulting services can help businesses develop the right systems to fully leverage this new ecosystem of technology, tools, and information. Business intelligence tools can be integrated and used on a cloud platform for the following applications:
---
Advantages of Cloud Business Intelligence
---
Benefits include:
Fast and easy deployment
Cloud-based software is typically designed with easy-to-use dashboards that deliver information quickly and reliably.
Increased accessibility and mobile-friendliness
Information can be quickly accessed from any device that is connected to the organization's cloud and cloud business intelligence tools.
Heightened efficiency
Business operations and processes can quickly and easily be monitored to improve practices and infrastructure.
Better scalability and elasticity
Serverless computing can allow businesses to scale their cloud applications rapidly and adjust for growth.
Reduced overhead costs
Cloud business intelligence and serverless computing reduce the number of or the need for on-site servers and staff to manage and maintain daily operations.
Increased revenue
Optimizing access to data can help reduce redundancies and drive informed business decisions.
---
Addressing Potential Concerns About Cloud Business Intelligence
---
You may be wondering about:
Implementation issues. Some businesses may encounter challenges with the transition to the cloud, but collaborating with a professional services provider that offers cloud infrastructure strategy services can help.

Data security. Your cloud platform provider and its cybersecurity partners can work with you to ensure safety and security of your data.

Additional costs. Your cloud storage and business intelligence tools may cap or limit bandwidth. When choosing a cloud storage provider and a cloud business intelligence partner, it is important to understand the potential size of your data and account for your future growth.

Change in accessibility. Something to keep in mind is that you will require an internet connection to access your data.
---
The Future of Cloud Business Intelligence
---
As noted in the Journal of Computer and System Sciences, advantages of cloud — cost efficiency, flexibility, scalability, and enhanced data sharing capability — are key components of the future of business intelligence. Furthermore, the size, scale, dynamism, and scope of big data cannot be managed with traditional systems and tools.
While cybersecurity will need to continue to evolve in complexity to meet the rising tide and demands of digital transformation, cloud business intelligence is projected to accelerate in use. A study performed by Dresner Advisory on the state of cloud business intelligence found that 54% of enterprises said cloud business intelligence is either critical or very important to their current and future strategies — indicating that the future of business intelligence will likely rely on the cloud.