Finding Balance in Cloud Spending
2020 played a leading role in facilitating remote work solutions, enabling organizations with the flexibility to fuse their existing processes with novel cloud technologies. In 2022, Flexera projects cloud expenditure for 53% of organizations worldwide will reach $1.2 million annually — up from 38% in 2021. Gartner forecasts worldwide spending on public cloud services to increase by 17.5% in 2023.
While cloud spending is seeing considerable growth, a conservative estimate suggests organizations waste 30% of their cloud budgets per year. Suboptimal implementation, dev/test waste, ungoverned costs, and unanticipated usage are just a few of the reasons why cloud spending spiraling out of control.
Add the Internet of Things, Container-as-a-Service, and artificial intelligence causing cloud instances to go left unchecked, and it's easy to see why cloud cost optimization is becoming a primary focus for many organizations. Let's explore cloud cost optimization and its best practices to better understand the areas that may return the most from your cloud investment.
---
What Is Cloud Cost Optimization?
---
Cloud cost optimization is finding the right balance between cost and performance and then maintaining it. It's essentially the process of reducing your overall cloud spend by identifying mismanaged resources, eliminating waste, reserving capacity, and rightsizing computing services to scale. To do this level of scaling, organizations must have complete visibility over their cloud accounts and control over future deployment. Without this level of visibility and control, there would be no accountability, and subsequently, no governance. Without any form of cloud governance, no matter what efforts are taken to optimize cloud costs today would be in vain.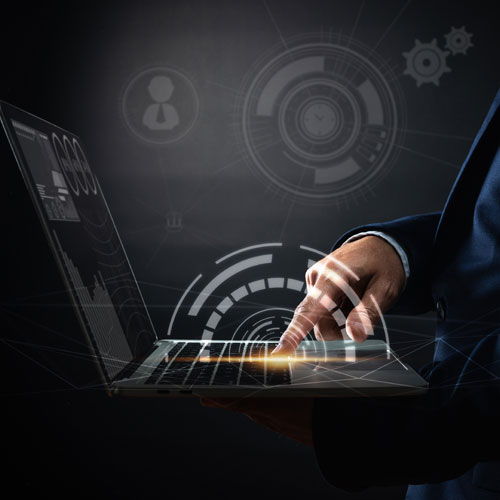 ---
Cloud Cost Optimization vs. Cloud Cost Management
---
Cloud cost management is the process of understanding and managing the costs and needs associated with an organization's cloud technology. This involves strategizing and implementing the most cost-effective ways to maximize cloud usage and efficiency.
On the other hand, cloud cost optimization is not only about reducing costs but using insights to align cloud spending with business goals. In other words, cloud cost management is better for short-term returns, whereas cloud cost optimization builds a process to meet strategic goals and save cloud spending in the long run.
---
9 Best Practices for Cloud Cost Optimization
---
Saving money in the cloud doesn't have to be a resource-intensive project. By following these nine best practices, most organizations can save themselves thousands of dollars annually.
1. Find unutilized resources
In most IT departments, an administrator or developer "spins up" a temporary server to perform a function, only to forget to turn it off or remove storage attached to the instances. The first step in your cloud cost optimization strategy would be to identify unused and completely unattached resources and remove them.
2. Consolidate unutilized resources
An idle computing instance might be utilizing just a small portion of your CPU, but you are billed for 100% of that computing instance. Once you identify such resources, it is important to consolidate computing jobs into fewer instances. With the cloud offering autoscaling, load balancing, and on-demand capabilities, you can scale your computing power at any time.
3. Power scheduling
One of the benefits of the cloud is the possibility of spinning up resources only when you need them. Powering down the instances when they are not in use is an effective way to save costs while deploying the public cloud. If there are a few instances, you can perform them manually. There are many tools available in the market like AWS Instance Scheduler or Google Cloud Scheduler to manage the entire process and configure a schedule to establish start and stop times.
4. Reserved instances
There is something called Reserved Instances (RI) that you can invest in to save costs. All cloud providers offer lucrative discounts based on time commitment and upfront payment. As per Amazon, RIs can provide up to a 75% discount compared to on-demand pricing and are available in 1 to 3-year contracts. However, before investing in RIs, analyze your past usage patterns thoroughly to locate easy wins for additional price savings (refer to cloud providers' pricing guides for further guidance).
5. Rightsize assets
Cloud administrators often have a million possible combinations, which makes it difficult to size instances correctly. So, efficient analysis of computing services and modifying them to the most efficient size is critical. In this analysis, you can also optimize servers for memory, databases, computing, graphics, storage capacity, throughput, and more.
6. Spot instances
Just like Spot Price in commodity markets, you can invest in Spot Instances, which are spare computing capacity that you can bid on. If you get the bid, you can purchase it for immediate use.
However, one disadvantage is that they aren't always readily available and can be terminated with minimal warning. This also means they are best suited for quick tests, batch jobs, or tasks that can be closed quickly.
7. Use heatmaps
Similar to websites, you can use heatmaps to identify when resources are idle and shut them down for that duration. You can also automate the start and stop schedules for different instances to eliminate manual errors.
8. Automation
Manually identifying and reviewing rightsizing and cost optimization opportunities is a time-consuming and labor-intensive process. Automating the identification, review, and management of these activities allows you to focus on other essential aspects of your business. One way to maintain steady, predictable performance at the lowest possible cost is to use AWS Auto Scaling, which is a service that provides application scaling plans that automate how different resources respond to changes in compute demand.
9. Establish accountability
Assign cloud cost governance responsibilities to a specific person, department, or build a cloud governance team. This will help ensure accountability, consistency, and continuous improvement for cloud usage throughout the organization. The cloud governance team can also help the adoption of best practices and identify opportunities to optimize cloud spending based on performance and cost telemetry.
---
Cloud Cost Optimization Tools
---
There are many cloud cost optimization tools from the big three as well as independent cloud providers you can use depending on your scale and complexity.
AWS Cost Explorer

Google Cloud Platform Billing

Azure Cost Management + Billing

VMware

Turbonomic

Flexera

Apptio

CloudCheckr
---
Cloud Cost Optimization with Trianz
---
Cloud cost optimization has become a driver for investment. Our research says 75% of industry leaders, or as we call them – Digital Champions are saving on IT infrastructure costs in a big way.
As part of our strategic execution analysis, Trianz takes a comprehensive approach to analyze a client's readiness to migrate applications to a public or private cloud infrastructure.
Cloud cost optimization is key to investment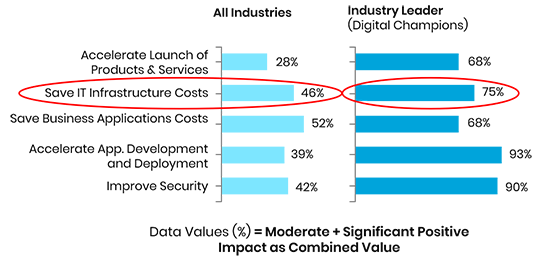 Source: Trasers
We begin every cloud migration assessment and strategy by gathering the right information from your business units. This step of our framework includes conducting a current-state analysis and further refinement and evaluation to ensure the application portfolio meets the fundamental evaluation criteria.
Our step-by-step process includes:
Define strategic objectives

Create a cloud council, detailed technology, and execution roadmap

Gain cross-functional company-wide buy-in

Undertake financial planning

Estimate cost(s) for solutions

Evaluate application and processes for migration (as-is-recoding)

Understand issues related to the public cloud, security, governance, risk, and compliance
Besides these, our cloud strategy services specialists also recommend the best architecture to make your 'cloud-first' strategy implementation successful. With our approach, your business will realize these benefits:
Reliable services

Elimination of upfront hardware costs

Reduced operational expenditure

Better performance

Application and infrastructure optimization

Application and infrastructure scaling
---
How to Maximize Your Organization's Cloud Services
---
Decentralized control of cloud accounts is a major contributor to wasted cloud spending. Cloud cost optimization enables cloud governance teams to work collaboratively with business units and cloud resource owners to optimize spending.
With cloud optimization approaches, you can monitor cloud usage, costs, and discounting structures for all your public and private cloud accounts, allowing you to identify optimization opportunities and present smart recommendations.
The right cloud cost optimization provider can give you comprehensive capabilities to reduce costs across your entire cloud environment. If your organization is looking to optimize cloud costs, Trianz is here to help.
×