Next Stop, the Cloud
When COVID-19 exponentially accelerated cloud adoption in 2020, businesses stopped asking the almost Shakespearean question, "To move to the cloud, or not?" Now, it's a question of how to migrate to the cloud in the fastest way possible.
Companies are quickly learning that it's not enough to simply add cloud to your mix of IT solutions. Today, an organization must have the necessary strategy and execution plan ready to speed up time-to-market, improve profitability, and gain a competitive advantage.
This is where a cloud readiness assessment plan comes in.

Cloud computing has revolutionized the way enterprises derive value from data. The elasticity of cloud technology solves workload challenges quickly and efficiently, from anywhere, and through any device.
KC Sreeram,
Vice President, Cloud & Infrastructure Practices

What is a Cloud Readiness Assessment?
A cloud readiness assessment is a comprehensive process that includes organizational readiness, application discovery, and application assessments. Its primary goal is to analyze the application and data infrastructure, and develop a roadmap for migration to Cloud.
The assessment demands organizations dig deep into their capabilities related to operating in the cloud, as well as the strategic drivers behind why IT services should move to the cloud. Broadly, everyone recognizes the benefits of cloud adoption – rapid time-to-market, co-location and flexibility for future expansions, lower total cost of ownership, and pivots. But the key is to identify these strategic drivers with metrics that can be applied to every new project.
Typically, the cloud readiness assessment includes: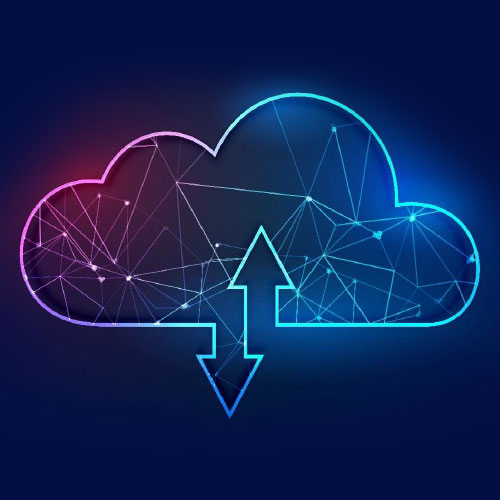 Case Study: Legacy Report Migration from SAP Business Objects
The Trianz Approach
Migrating your system to the cloud can prove difficult, given different service and delivery models and decisions that must be made around architecture, operations, and tools to use. Trianz has designed a custom cloud migration assessment to help organizations navigate through these challenges.
Cloud Migration Assessment
The first step is assessing the current processes, systems, and inventory management within an organization, including a methodical step-by-step approach for determining the organizational cloud maturity and recommendations for improvement.
We conduct a thorough analysis of existing IT assets covering cost-benefit analysis, IT infrastructure, operations, security, and datacenter environments. Based on this assessment, we develop a cloud migration roadmap, including benefits that the organization can achieve.
Also Read: Cloud Readiness Assessment Tools
Business Readiness
Next comes the business readiness aspect. Through interactive consultations with key stakeholders, our team determines business processes, goals, opportunities, and cultural readiness of the organization. We also identify any change management or training considerations and conduct a cost-benefit analysis.
Key components that we review include:

Infrastructure and Applications Review
Next up is a comprehensive review of the organization's existing infrastructure and applications, including a security and risk assessment. We review the applications against the following points: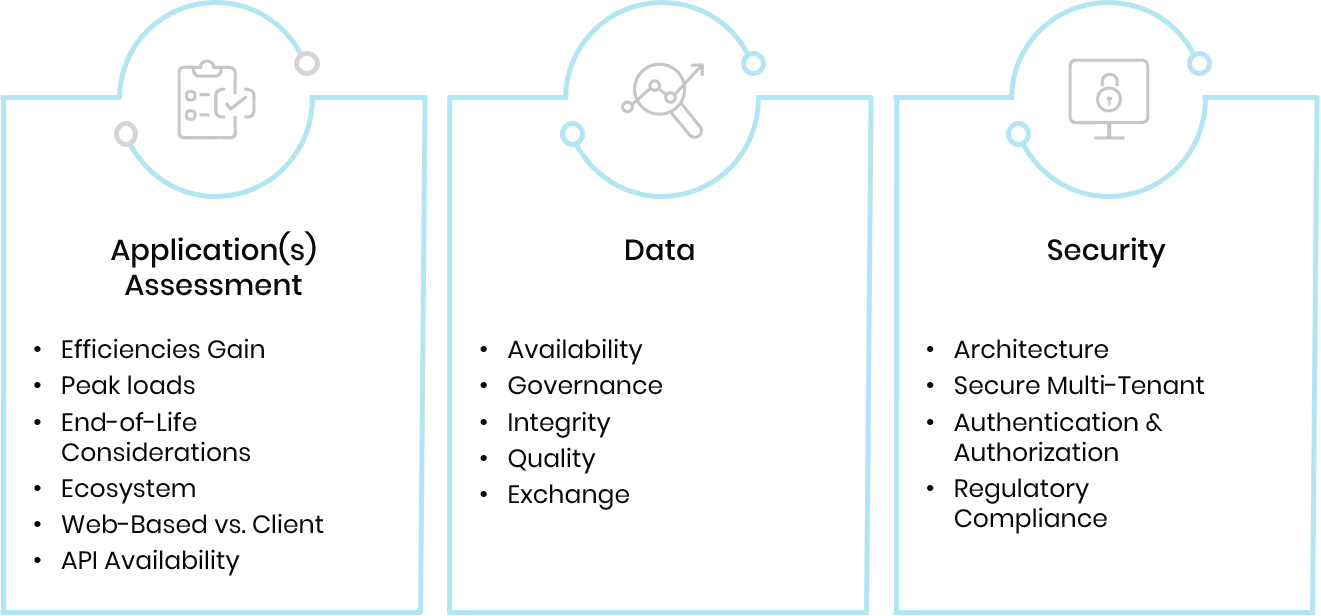 Migration Path
Based on the assessment report, we restructure internal workloads to prepare them for cloud migration. We work with the organizations to determine migration schedules and project milestones to align with their business needs.
Based on these, we propose a schedule for ongoing risk/trend analysis reports to monitor and understand exposure levels, and determine whether the existing controls are working appropriately. We also plan all contingency steps to roll back in case of any situations like:
Virtual to Cloud (V2C)

Workload balance

Workflow deployment

Security

Monitoring and reporting
Once all these checks and balances are in place, we recommend suitable migration options. Typically, it's one out of these three depending on the use case:
Supplement existing applications

Integrate cloud workloads with existing on-premise systems

Migrate existing applications
After spending considerable time reviewing all deployments, we build guides with all stakeholders and conduct a thorough setup and configuration to ensure a smooth transition and foster successful change management with system administrators.
Infrastructure and Applications Review Deliverables
After successful delivery of our cloud migration plan, organizations will have the framework and plan required to migrate their solutions to the cloud. Here's what our complete cloud migration plan includes:
A clear strategic IT roadmap providing a defined set of activities needed for cloud readiness

Reference architecture of which workload and applications should be migrated to the cloud

A security and compliance report of risks to your organization

Project plan and statement of work for immediate next phase

Detailed proof of concept and user experience
Ready to Start your Cloud Readiness Assessment Journey?
Taking the step to determine your readiness for cloud migration is not a simple process. However, working with an experienced independent software consultant can help you make the right choices and figure out the right timing so that you don't put the cart before the horse.
Trianz has helped numerous Fortune 1000 companies leverage the power of the cloud. We're a Gold Microsoft Azure Partner and an Advanced Consulting and Managed Service Partner of AWS. 93% of our clients engage us for repeat business. Our cloud readiness assessment will provide you with an all-encompassing overview of needs and a roadmap for a winning and cost-effective cloud migration.