The Omnichannel Approach
Many industries are turning to data-driven marketing to drive sales and loyalty among today's empowered and digitally savvy consumers. For instance, in the financial and insurance industries, marketers are challenged to capture, integrate, analyze, and use data for personalized customer engagement across multiple channels.
Today's marketers are becoming data-driven by necessity, to make sense of these channels and the vast amounts of data generated from consumers daily.
Still, many large-scale investments in data and analytics often fail to get off the ground due to the inability to use raw data to solve customer satisfaction and retention issues. It is vitally important to be able to synthesize the data into insights quickly and easily so leaders can take an informed approach to the omnichannel customer journey in today's marketplace.
---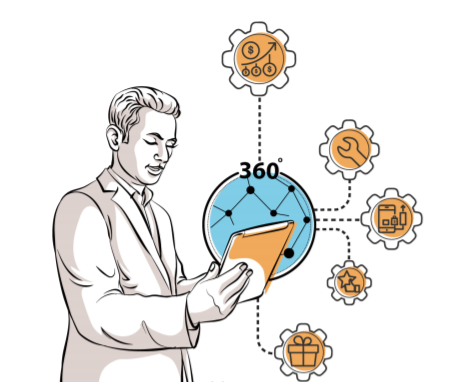 The Skinny on Big Data and Marketing
---
It is evident that customers are more knowledgeable and informed than ever. From sizing up products and services through online reviews to using apps that can locate the best deal, consumer behavior is changing how businesses bring value to their customers. That makes data-driven speed, precision, and personalization crucial to the modern marketing team.
Understanding and engaging with customers depends on robust data management, integration, and analytics. But like big data itself, those can be complex technologies and processes for any industry to master.
Financial services such as banks, brokerages, lending facilities, and credit unions can benefit by partnering with technology advisors who help shape a roadmap to take full advantage of big data for more effective and personalized omnichannel marketing. Independent experts can simplify the overwhelming landscape so that marketers can focus on the three fundamentals of a unified customer view, marketing analytics, and omnichannel optimization.
Health, life, and P&C insurers can also take full advantage of turning to data-driven strategies to enhance their omnichannel customer journey. With the urgency to better target Millennials, Gen Z, and Baby Boomers, an individualized approach is required to reach a multiplicity of customer segments. By using customer data to gain insight and make better-informed decisions, insurers can locate and target customers with relevant and contextualized offers.
Moving towards a more data-driven business model will help insurers narrow campaign strategies by quickly identifying the hidden business value in big data. This, in turn, will help generate more leads by focusing the campaign and funneling it to precisely match the when, where, and how of customers they are targeting.
---
Marketing Data Remains Underutilized and Incomplete
---
There is no shortage of data on customers. Since customers generate data every time they interact with your company by any channel or device, data is being generated at a breakneck pace, often overwhelming many as to how to utilize this data effectively.
In fact, 2.5 quintillion bytes of data are generated each day from customers viewing digital ads, visiting websites, using mobile apps, checking Facebook, writing reviews, and many other digital activities.
To become an effective marketer means recognizing the importance of utilizing this data to gain a 360-degree customer view and deliver an exceptional customer experience across all touchpoints.
Of course, there are many obstacles on the road to the ideal customer 360 marketing journey. Consistently, marketers are challenged by:

Limited analytics
Marketers struggle to derive customer insights without a robust analytic solution that tracks interactions across all touchpoints.

Mistargeted messages
Without a complete cross-channel view of the customer, marketers resort to counterproductive, non-personalized communications.
Misleading metrics
Many marketers rely on crude metrics as last-touch attribution, failing to account for multiple interactions in the customer journey.

Missed opportunities
Lack of real-time, cross-channel data makes it difficult to engage with customers at critical purchase decision points.

Manual efforts
Many marketing campaigns involve manual efforts across multiple teams, resulting in poor productivity and results.
---
The Power of Three
---
Overcoming the challenges listed above requires optimizing each campaign using data and analytics. Below is a three-pronged approach to optimize your customer journey and marketing campaign.
1. Unified Customer View
A systematic strategy for big data management that consolidates and cleanses information from multiple sources will deliver a unified, 360-degree view of the customer. The optimal solution drastically reduces ineffective manual efforts to track down and reconcile incomplete and inconsistent data.
2. Marketing Analytics
Analytics makes it possible to understand who your customers are, what they want, and what they are likely to do next. Analytics also plays the pivotal role of measuring omnichannel campaign performance, so that marketers can appropriately credit each of a customer's multiple interactions for a conversion. With those insights, marketers can better optimize channel investments.
3. Omnichannel Optimization
Continuous optimization requires ongoing data quality and governance to ensure that customer profiles are accurate and up to date as data changes across multiple sources and within a centralized repository. Master data management (MDM), data quality, and governance work in concert to help ensure customer profiles are validated and free from discrepancies that can derail marketing performance.
Creating a Pitch Perfect Customer Journey
---
Organizations that embrace a unified customer view, analytics, and omnichannel optimization will have the foundation for providing a high-rewards customer journey. From your website to call center and sales reps, every system and all your people can provide a relevant and informed response to any customer interaction.
Importantly, today's best big data management practices adapt in real-time to changing customer behavior and preferences for actionable insights in the purchase consideration cycle.
Digital Enterprise Evolution Model™ - Marketing Operations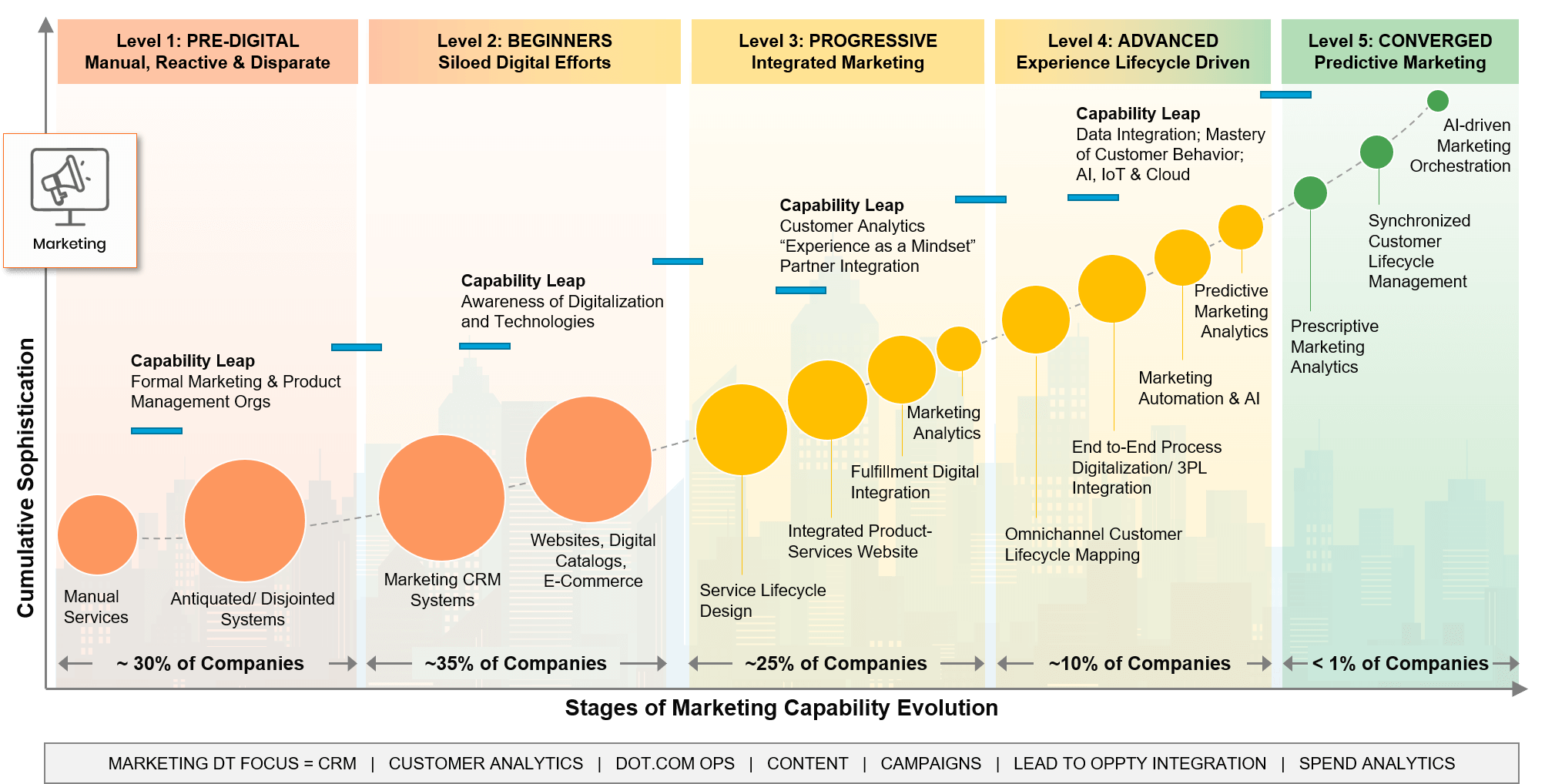 Copyright © 2021 Trianz
---
Speed and Precision for High-Conversion Campaigns
---
Positive customer engagements depend on a Customer 360 view, marketing analytics, and an optimized omnichannel. Marketers can add a slew of lead-driving techniques and marketing campaigns, including trigger-based event response, location-based SMS messaging, and targeted product recommendations. When marketers can make reliable and timely data work to their advantage, they can choreograph the right message, to the right customer, at the right time, and in the right channel.
---
Next Step: Transition to Omni-Channel Marketing
---
The foundation for effective marketing lies in the omnichannel customer journey. And the success of the customer journey begins with great contact data. Informatica helps marketers easily verify and cleanse contact data to deliver a more relevant customer experience, convert more prospects into paying customers, while optimizing marketing execution across all channels.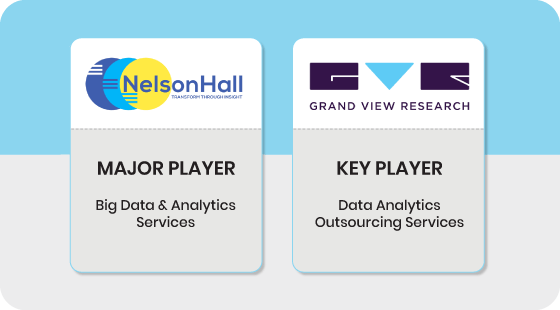 With over 2,000 client engagements, Trianz partners with Informatica to provide proven best practices and market-leading technology to leverage big data from a broad range of sources to nurture the customer journey and measure marketing campaign effectiveness.
With Trianz and Informatica, your organization can eliminate the gaps and inefficiencies of outdated marketing data techniques and speed your evolution into becoming a data-driven marketing powerhouse.
×