A Winning Base for Successful Digital Transformations
When it comes to developing a successful digital strategy, it is not just corporations planning to maximize the benefits of data assets and technology-focused initiatives. The Government of Western Australia recently unveiled four key priorities for digital reform in its new Digital Strategy for 2021-2025.
In March 2021, the UK Government unveiled its 'Ten Tech Priorities' that will form the foundation of the UK Digital Strategy. Entities across all sectors are realizing a successful digital transformation is the result of a smart digital strategy.
And it's not just about making the technology fit. The smart digital strategy is about making choices to maximize profits, growth, and value, and creating a competitive advantage by implementing the strategy with precision and the right technology.
---
What is a Digital Strategy?
---
Much broader than the just technology and IT, a digital strategy is a strategic business plan formulated to achieve specific goals through a digital medium.
However, it does have a different definitions for different departments depending on their goals. For example, marketers and salespeople will see a digital strategy with the lens of increasing leads and sales, whereas IT and operations would see it as the inclusion of cloud-based systems and data analytics.
What is a Digital Strategy?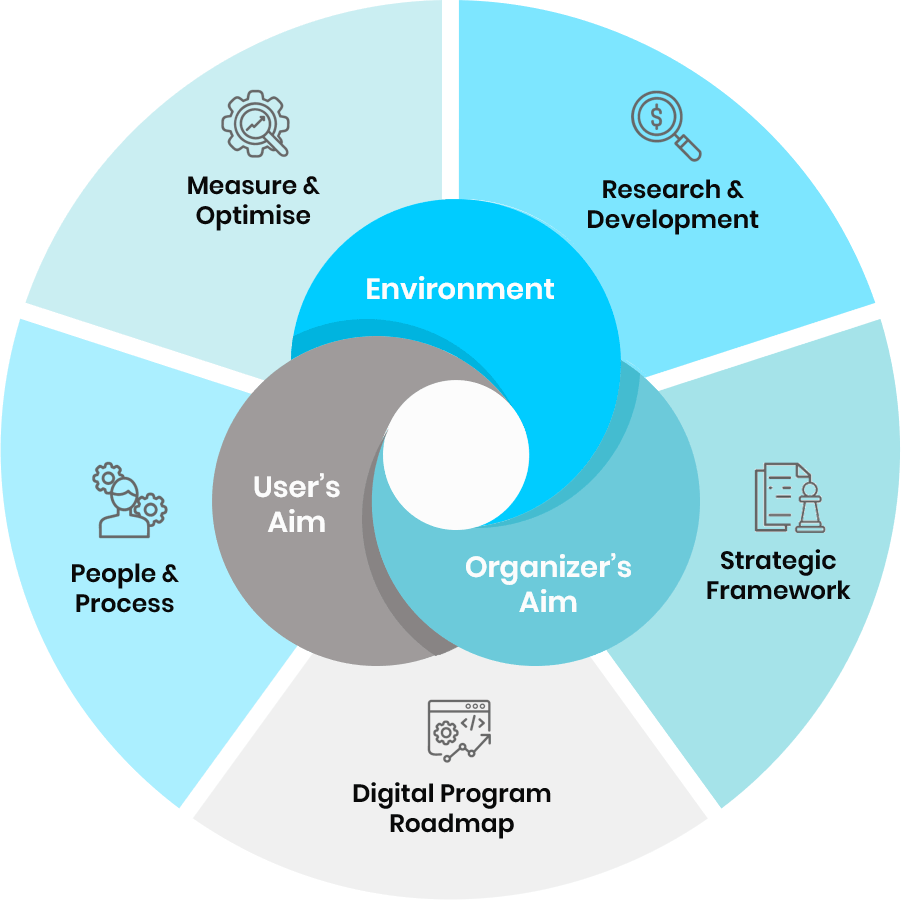 An effective digital strategy should:
Create the overall direction that an organization will follow and provide a digital purpose, aligning the organization and its fundamentals to the business's digital goals.

Lay out frameworks for channels, assets, platforms, applications, and tools required to achieve business objectives and deliver results.

Focus on building technology to develop business performance through innovation in products and processes.

Help to understand the efficiency of business operations by assessing the organization holistically.
In essence, a good digital strategy identifies the direction an organization will take to generate a new competitive advantage with technology and steps to realize these changes. This usually includes modifications to business models, as new technology makes it promising for innovative businesses to provide services that were not previously available.
---
Why is Digital Strategy Important?
---
A digital strategy is essential for all businesses who wish to succeed in a competitive space as it ensures that an organization's business objectives align with its digital goals. Here are key reasons why digital strategy is an essential piece in the organizational puzzle:
A digital strategy will help you outline and create a clear path to strategic goals. It will also help you determine benchmarks and the tactics that will lead you to success.

With a solid digital strategy, you can perform a SWOT analysis of your organization, which will help you identify areas for better optimization, new focus areas, and eliminate any potential missed opportunities.

Having a cohesive digital strategy will enable you to reach your target audience on their preferred digital channels like Instagram, Tik Tok, Twitter, Clubhouse, and others - more effectively.

When you create a robust digital strategy, you can discover new ways to differentiate your organization online or nurture your audience with strategic content that is in line with your sales and marketing funnels.

One of the biggest benefits of a digital strategy is tracking ROI with the tactics you put into place. This will help you create the capabilities to support your operations.

Lastly, it will help you establish a vision aligned with every business function to communicate a consistent brand message.
---
Components of a Digital Strategy
---
A comprehensive digital strategy must be integrated into the organic whole of how an organization runs and what its aspirations hope to achieve. It should focus on: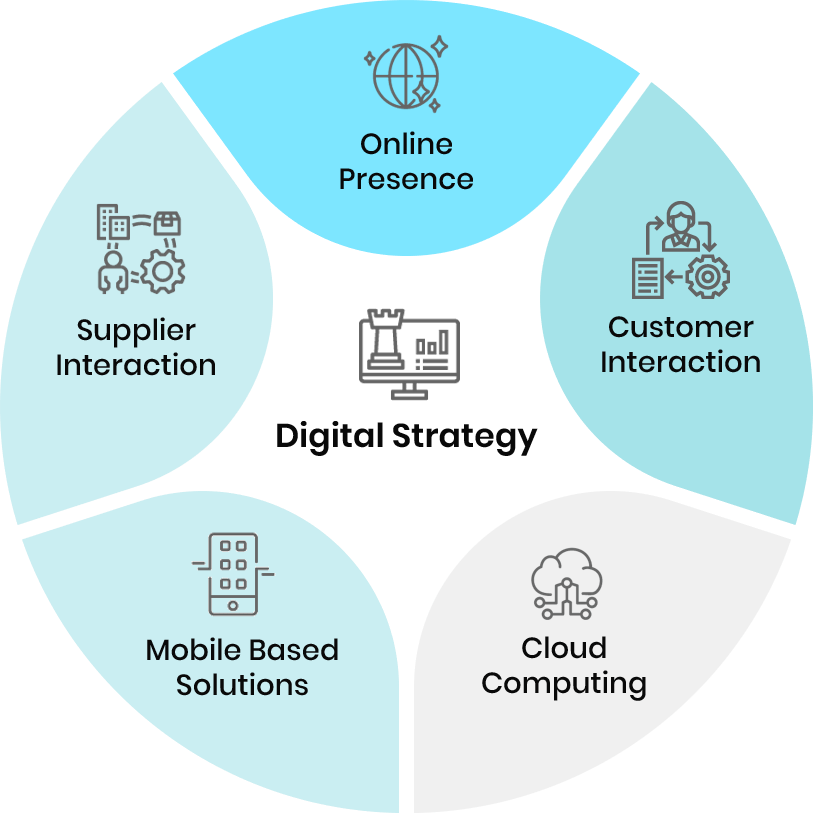 Online Presence
Online presence of businesses such as the company's website, mobile applications, social media profiles and links, information in journals, or articles on other business websites.
Customer Interaction
Allowing customers to engage with business through their preferred medium, such as mobile devices, laptops/desktops, traditional phone calls, or in-store.
Supplier Interactions
Access to global and regional markets to establish potential supplier relationships and build the capability to undertake supplier interactions more efficiently and effectively.
Integrating Mobile-Based Solutions
a) Mobile commerce — providing customers the ability to transact via their mobiles or tablets.
b) Mobile compatible websites — responsive websites that scale down to a mobile phone's or tablet's screen size.
Cloud Computing
Using cloud computing to store and access data and programs over the internet instead of the computer's hard drive.
---
Understand All Forces to Master Your Digital Strategy
---
Every organization must have a digital strategy, but there is no one-size-fits-all approach to it. Rather, your strategy should be a compilation of different tactics served at the right time to the right audience. New technologies are radically reshaping business economics, and a good digital strategy starts with a rich understanding of the competitive environment and how it is likely to change.
After all, Blockbuster developed an online movie platform much before Netflix. But due to a lack of organizational focus, Blockbuster got busy prioritizing its legacy business, and the rest is history. In contrast, Starbucks created a solid digital strategy to make up for lagging same-store sales. It found new ways for customers to order and pay for their coffee with new digital payment modes and digital loyalty programs. The result? Starbucks' online sales have increased twice as fast as in-store sales.
That is what a good digital strategy can do for your business.
---
×