Transform IT at Scale
As enterprise IT teams struggle to keep up with increasing service demands, they can't count on cloud migration alone to bridge the gap. There is another level to reach. Leveraging IT Service Management (ITSM) as a service will empower your IT teams and non-technical personnel without exhausting your IT resources and budget.
In this "How To" we'll explore some of the benefits and practicalities of delivering ServiceNow as a Service via its broad range of ITSM modules.
---
Five Existing ITSM Problems and Potential Business Objectives for Enterprises
---
Before diving in, let us explore some common ITSM problems encountered by companies. For those that need a primer on ServiceNow ITSM, feel free to first check out what is ITSM.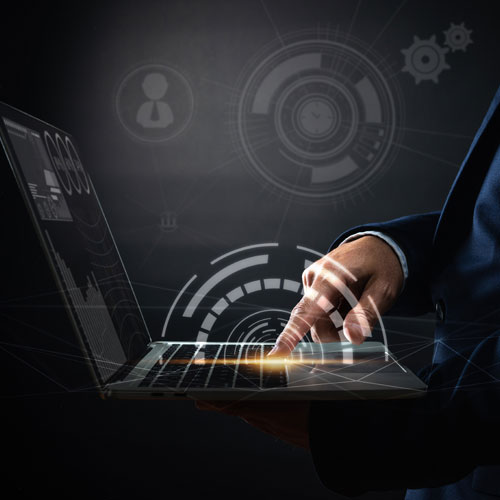 1. Decentralization
Enterprises often suffer from decentralized and misaligned ITSM processes across departments. This contributes to IT silos and complicates general IT service management workflows for IT teams. The business objective here would be centralizing and streamlining ITSM processes for greater visibility and standardization across the enterprise.
2. Manual Processes
Many enterprises have an abundance manual processes and workflows. This leads to inefficiency and wasted human resources, where automation would free up valuable working hours. The objective for businesses here would be to automate the ITSM change management lifecycle, reduce the prevalence of human error, and enable the 24/7 execution of workflows.
3. Disparate Sources
Published knowledge is sparse for internal and external persons. Employees and end users cannot locate knowledge to learn about services, leading to negative impacts on the customer experience and employee experience. One objective could be creating and publishing a self-service knowledge portal to share information and reduce inbound low-level service requests.
4. Resource Expenditure
Operational efficiency is hit and miss. Some IT services may be bloated and use excessive resources, and others may lack enough resources to deliver good digital experiences. The objective here would be driving operational excellence for lean yet performant services.
5. Orchestration
Enterprises lack a centralized method of monitoring and orchestrating ITSM services, processes, and changes. This results in reduced visibility and awareness, which may result in problems going amiss. The overarching objective here, and for all points above, is adopting an enterprise-wide ITSM solution.
---
IT Teams Are Not Equipped for the Digital Workforce
---
The present reality is that IT teams are not properly equipped to keep up with the needs of an increasingly digital workforce. Even in cases where companies have the opportunity to leverage the cloud for IT service management infrastructure, several dilemmas persist:
Inefficient and dated workflows

Temperamental connectors between third-party solutions

The high costs of software ownership

Unutilized software, aka "software bloat"
These issues would make the option of maintaining the status quo an expensive standstill at best. The ideal alternative is a platform that combines all the key aspects of ITSM under the umbrella of one robust but user-friendly interface—which is precisely what ServiceNow offers.
---
Exploring the Trianz Model for ServiceNow ITSM
---
Our model follows the ServiceNow model in that we adapt to our clients' needs in a scalable, cost-effective, and business-forward manner. We do not force automation technology where it does not serve a tangible purpose.
What we care about more than anything else is: Does this make sense from a business-financial perspective? Is this something that will actually be used to optimize operations, create clear cost-savings from the get-go, and generate significant ROI over the long term?
This philosophy comes full circle with the three phases of the Trianz model:
---
ITSM Assessment and Process Re-Engineering
---
Trianz will assess your current ServiceNow instance, including any custom applications. This is what helps us map and understand your ITSM environment to meet client needs, including optimization and cost reductions.
Alongside ITSM assessment, we also re-engineer processes to drive efficiency and reduce resource requirements. This aligns your ServiceNow instance with industry best practices, delivering added business value.
---
ITSM Design and Implementation During the Build Phase
---
Trianz works over a period of three months to design and implement the following functions:
Change Management – A systematic approach to avoid disruption during changes in organizational goals, processes, or technologies.

Problem Management – The processes and activities needed to manage IT service problems at all stages of the IT service lifecycle.

Service Catalog – Organize and map services to specific servers or resources, and list active services available to end users.

CMDB– A configuration management database (CMDB) is a single source of truth for IT asset configurations. Configuration items (CI) ensure that intended configurations persist, with warnings for CI deviations.

Knowledge Management – Centralize and share knowledge on IT services, freeing service desk resources for more business-critical tasks.
---
ITSM Continual Improvement and Support with Managed Services
---
Trianz then supports companies during the run phase with ServiceNow managed support services. The timeline here is up to three years.
Simply put, we support and manage the newly implemented modules on behalf of your IT team, while continually looking for new ways to optimize operations, create cost savings, and improve overall ServiceNow ROI. This includes steady state support, ServiceNow product upgrades, ITSM automations, and other continuous service improvements.
---
Maximize the Benefits of ServiceNow ITSM
---
You may be wondering: why do I need a managed service provider to integrate ServiceNow? Although ServiceNow may not be complex, it is vast. You could spend over a decade exploring all the nooks and crannies, as well as mastering its different use cases and implementations—exactly what we have done.
As a result, Trianz is an accredited ServiceNow Premier Partner. This means ServiceNow acknowledges our teams' ability to design, implement, and support its ITSM solution to a high standard.
We pair Premier Partnership with our ServiceNow Technical Center of Excellence (CoE), where our skilled professionals create out-of-the-box, custom application integrations to support businesses. These skilled professionals continually seek out education and certifications, so their skillsets maintain pace with the wider ITSM industry.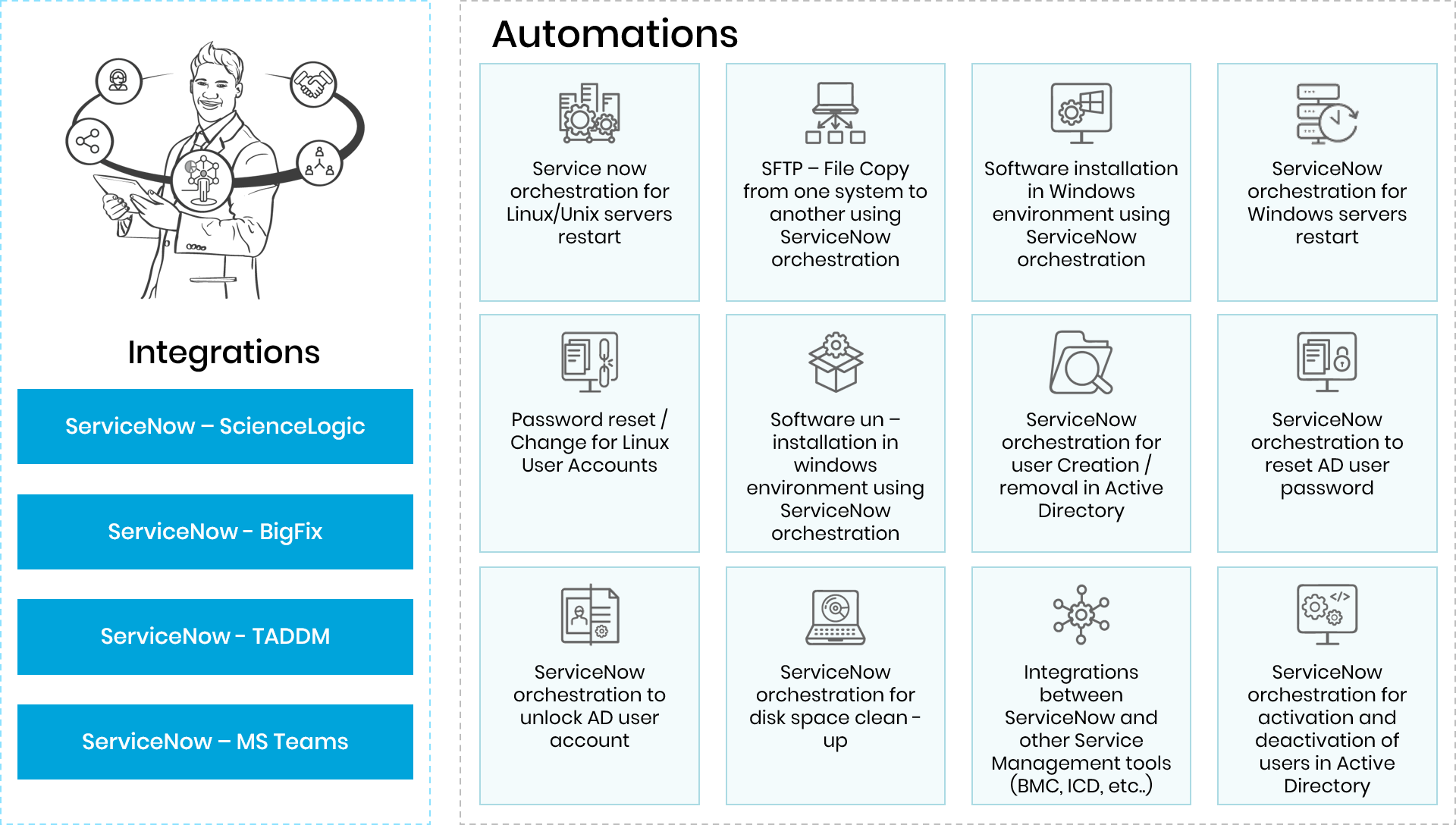 ---
End State After Adopting ServiceNow Managed Services
---
After learning the ins and outs of your company, the market context, and the persistent internal hurdles, we'll know exactly which solutions to plugin first as a priority, allowing you to adopt ServiceNow in as little as 60 days.
If you choose to go with ongoing support from our ServiceNow managed services, here are several benefits you will experience:
Asset and Network Discovery
With clear definitions for program objectives and success criteria, your business can move confidently in a new digital direction.
You will gain a full understanding of infrastructure and applications on your network, with a network map to understand dependencies.
Trianz will establish a workable budget for your organization, along with additional strategic guidance.
Business Alignment
A plan to generate application knowledge articles will help to onboard teams for years to come..
These knowledge articles will appear in a self-service knowledge portal, providing educational resources to employees and customers.
Communications templates will help you share new information and onboard teams to new technologies or processes.
New service level agreements will tame expectations across the organization, helping IT teams to provide more value despite limited resources.
ServiceNow ITSM, Data, and Application Implementation
A fully working ServiceNow instance configured for your organizational IT network.
Business applications integrated with ServiceNow to enable centralized orchestration, analytics, and vendor management.
All business data migrated to the desired platform, with data connector templates for standardized and expedited data transfers to or from third-party tools.
Support From a ServiceNow Premier Partner
24 hours, 7 days a week ITSM support from the Trianz ServiceNow Technical Center of Excellence (CoE).
Agile development methodologies expedite project timescales while correcting the course with unforeseen hurdles.
Continual product and service enhancement support over 3 years.
You retain 100% ownership of the ServiceNow instance.
Support with designing and enabling automation workflows and service catalogs.
Monthly and quarterly ServiceNow ITSM performance reviews.
Establish and enable monitoring for a full range of key performance indicators (KPIs) aligned with your business objectives.
---
ServiceNow ITSM Delivers Tangible, Positive Business Impacts
---
By maximizing process management, expansion, and delivery from experts and via their self-service catalog of on-demand tools, ServiceNow enables you to integrate a scalable and cost-effective ITSM solution.
Other positive impacts and outcomes you can expect include:
Cost Reduction - With ServiceNow, you don't need to own everything. Our software usage analytics approach allows to determine which software applications and features your teams really need, really use, and really see results from. With the ServiceNow self-service catalogue, you are free to pick and choose products on-demand as you need them.

Reduced Time to Value - With rapid sprints to IT Operations Management, IT Asset Management, and other key capabilities, you will quickly have everything you need to at your fingertips.

Optimized Resources - With IT and non-IT moving in sync, you can do as many of our previous clients have done: Spend more time working with business partners on creating new outcomes through cost savings, fast delivery times, and better quality of service.
At Trianz, we believe in a modern approach to helping clients migrate to new platforms by focusing not only on technical capabilities, but also on the business outcomes of the migration. Both large and small companies are sensitive to the bottom line, and we recommend ServiceNow because of the impact we have seen it have on productivity and innovation in many different scenarios.
The fact is that with adaptive integrations, cloud management and a wide range of ITSM modules, ServiceNow can respond to virtually any need you may have, including some you may not yet even have considered.
×