In this series of articles, we will focus on three important aspects of Human Capital Transformation (HCT) in the era of digital transformation:
What is the Current State of HCT? What HR functions should you focus on now? What are the most successful companies doing right?

HR Benchmarking and the New Digital KPI: A conceptual view of key HR functions within the context of KPI for a future workplace.

Measuring Success: from implementation to employee experience and costs versus productivity gains how do you know your HCT initiatives are working?
Why HCT, and why now? In the midst of a global pandemic, job insecurity, and market volatility, is it really the best time to roll-out human-centered transformation?
Actually, it's the ideal time. And digital transformation is playing a key role.
Human Capital Transformation: More Than A Catchphrase
Digital transformation, from an HR perspective, is primarily about cultivating "transformational mindsets" that focus on people and processes to optimize business performance, a.k.a. human capital transformation.
The primary HCT focus areas cover three broad categories:
Foundational Role: Employee Experience with HR

Payroll, benefits, vacation, performance, career progression, organizational communications

Transformational Role: Enterprise-wide Talent Transformation

Ensuring role-based training before, during, and after every digital transformation initiative

Transformational Role: Digitalizing the Workplace

Ensuring role-based training before, during and after every digital transformation initiative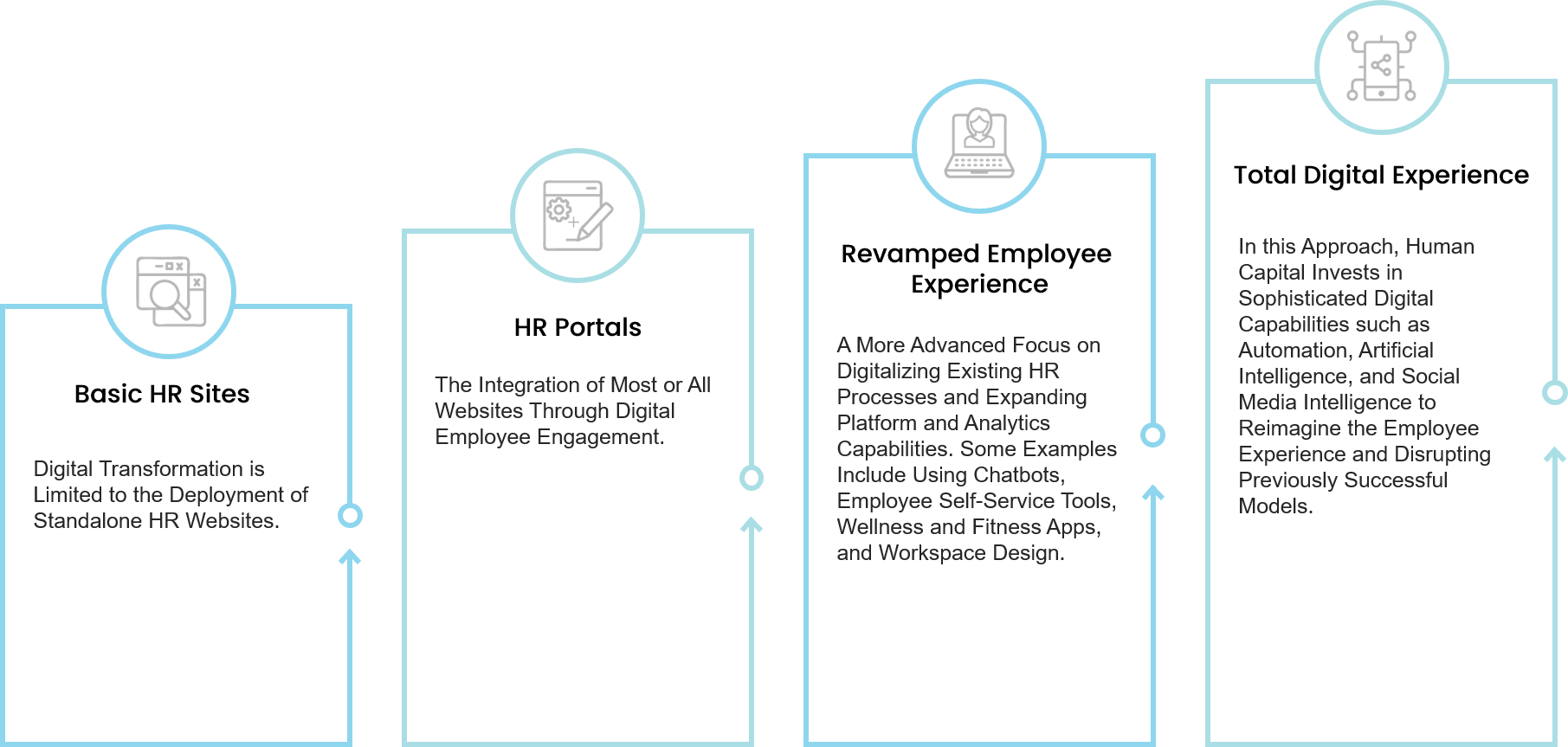 Copyright © 2020 Trianz
---
HCT is Happening Now
Cultivating a digital work culture and attracting, nurturing, and retaining talent are top priorities across management tiers and company types. Taking a cue from the champions, human capital operations are the next frontier of digitalization — to include payroll administration, health, and retirement benefits and other HR administration.

HCT is about making the life of your talent easier in every organizational engagement, helping everyone learn how the digital paradigm impacts their role and fostering a vibrant and communicative culture that extends across geographies, disciplines, and demographics.

Most human capital functions are now trending towards end-to-end transformations to ensure a uniformity in investments across all human capital areas. HR leaders are planning to deploy datalakes, predictive analytics, and AI over the next two years through collaboration, communications, and remote workforces.
Enterprise-wide, companies will have to adopt these advances in their business functions at the pace that the technology is developing to keep up with customer desires and the competition. Most human capital functions, however, are still in the early days of adopting predictive analytics and dashboards across their operations.
In the next article we will investigate "The Future Workplace," conceptualizing key HR functions and a new set of KPIs for the digital age.
×