Adopt Mature IT Cloud Technologies
As COVID lockdowns were enforced and employees started working from home, many enterprises did not have sufficient remote workplace initiatives already in place. Hit hardest by these barriers to workforce productivity were enterprises that still use on-premises infrastructure. The pandemic highlighted critical gaps in IT maturity, including cloud technologies, conferencing software, and virtual desktop infrastructure.
For many companies, the combination of IT department absence and unprecedented server demand meant that on-premises infrastructure buckled under the weight of a fully virtualized operation. Servers could not scale to accommodate demand, and resource limitations led to downtime or reduced performance. To combat disruption from COVID, these enterprises need highly scalable infrastructure delivered as a managed service from cloud technology experts.
In response to widespread IT disruption, companies should consider comprehensive cloud managed services that allow enterprises to adopt cloud technologies quickly and efficiently without the barriers of educating their workforce or architecting the solution in-house. The result is instantly increased IT maturity and digital transformation, both of which prepare enterprises for a post-COVID run state.
Operating Post-COVID
By moving to the cloud, enterprises can increase their IT maturity and prepare for post-COVID operations concurrently. Migration will help enterprises deliver remote workplace solutions to employees, including video conferencing, collaborative work tools, and virtual desktop infrastructure (VDI).
To achieve this end-state, enterprises need to migrate away from legacy systems. This includes data migration, the adoption of new software tools, and creating a future-proof cloud infrastructure framework. Other considerations include governance, risk, and compliance (GRC) policies such as security frameworks, data governance, and identity access management (IAM) rules.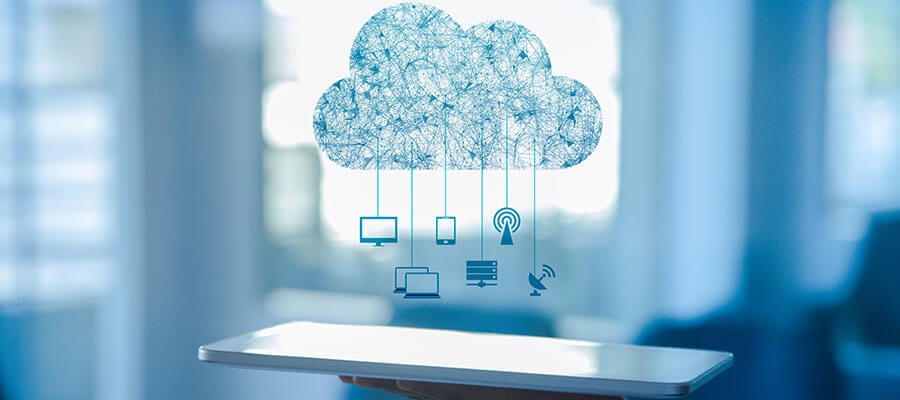 Trianz is partnered with leading players in the cloud hosting industry: Amazon Web Services (AWS) and Microsoft Azure. Two platforms that offer broad functionality across server hosting, compute, data storage, and digital service delivery. Unlike on-premises, cloud platforms provide virtually infinite scalability.
The cloud can readily accommodate remote workplace solutions, automatically acquiring more compute resources during peak demand and scaling back down during quieter periods. Your IT infrastructure will finally provide the elasticity your business demands to enable them to innovate without technology constraints.
The result is lean IT operations, with cost-effective pay-as-you-go computing that minimizes costs without compromising performance.
What's more, the cloud has been a catalyst for seamless integration between hosting providers and third-party ISV solutions. There are more opportunities than ever to connect users, data, and partners together. Enterprises should be focusing on integrating collaborative work tools and virtual workplace infrastructure post-COVID.
The cloud has immense potential to help enterprises many forms of disruption. What most companies need now is a pathway to cloud adoption.
New IT Maturity Levels with Less Investment and Risk
Our cloud managed services are well-suited to help enterprises adapt and mature their IT operations within the context of COVID-19. We can apply best-practices and years of technical knowledge to extract maximum value from your infrastructure with minimal workforce education.
While our seasoned experts can responsibility of your IT operations – starting with migration and re-architecting your infrastructure and commencing with ongoing management – the enterprise is rapidly increasing IT maturity levels with less investment and risk.
As part of the solution, enterprises can take advantage of Trianz's award-winning Concierto.Cloud platform. Over the past four years, Trianz has built Concierto.Cloud to help clients orchestrate and manage complex hybrid cloud environments through one unified interface and a shared services team. In the process, we have made cloud operations highly cost-efficient, predictable, and reliable by sharply reducing dependence on manpower and automating operations wherever possible.
Enterprises also benefit from holistic visibility across their network through Concierto.Cloud. Every server, application, and user can be viewed from a central location, simplifying IT service management (ITSM) and IT operations management (ITOM) workflows. With increased demand from remote working, the improved visibility provides actionable insights needed to keep the lights for the remote workplace.
The remote workplace demands a new approach to governance, risk, and compliance (GRC) management. Remote employee hardware devices introduce new endpoints on your network, which create new attack vectors. Concierto.Cloud can mitigate this risk through integration with cross-cloud GRC monitoring and orchestration tools.
This includes remote asset management and risk analysis, alongside centralized identity access management (IAM) enforcement with policy standardization across applications and cloud platforms. To secure remote internet connections, the Trianz ARXWAY Host can be used with Amazon EC2 instances as a virtual private network (VPN), multi-factor authentication server, and remote workforce auditing solution.
Experience the Trianz Difference
Trianz cloud managed services offer technological certainty and flexibility in the increasingly uncertain business landscape. Our strategic goal is to empower our clients to successfully transition into the digital age and to reduce expenditure on application management — with support being the No. 1 source of capital required.
Over 60% of all implementation services and over 90% of our managed services are offered at a fixed-fee rate.
When we say "Accelerating Digital Evolution," we're reflecting on our extensive portfolio of services and capabilities covering business and technology evolutionary transformations; a stellar track record of over 2,500 successful global client partnerships and engagements powered by innovative, futuristic methodologies.
We can help companies of any size embrace cloud solutions that are so critical in sustaining business operations throughout the pandemic. Take the first step towards improving your IT maturity – Let's talk.