Adopting emerging cloud technologies, consolidating resources, and improving processes is the key.
"IT no longer just supports corporate operations as it traditionally has but is fully participating in business value delivery. Not only does this shift IT from a back-office role to the front of business, but it also changes the source of funding from an overhead expense that is maintained, monitored, and sometimes cut, to the thing that drives revenue," said John-David Lovelock, research vice president at Gartner.
IT has indeed come a long way from being a B-lister to an A-lister, as Lovelock rightly mentioned. A study has forecasted worldwide IT spending to total $4.1 trillion in 2021, an increase of 8.4% from 2020.
In contrast, the world spent $3.8 trillion on IT expenses in 2019. With 2020 being a year that disrupted everything and forced companies to embark on cost-cutting measures, there is no better time to reassess IT spending, determine economizing opportunities, and rethink strategy towards optimal value delivery.
This is where IT cost optimization comes in. A lot of waste goes undetected in IT spending, and a series of strategic measures will help curtail it. However, the important point is that cost optimization doesn't mean cost-cutting, though both are used interchangeably.
Gartner defines cost optimization as a business-focused, continuous discipline to drive spending and cost reduction while maximizing business value. It includes:
Obtaining the best pricing and terms for all business purchases

Standardizing, simplifying, and rationalizing platforms, applications, processes, and services

Automating and digitalizing IT and business operations
---
What is IT Cost Optimization?
---
IT cost optimization is the process of continuous evaluation and configuration of all resources that drive your business applications, infrastructures, and workloads. Done right, IT cost optimization can help you reduce your infrastructure and maintenance costs, meet performance and scalability requirements, and enable timely data-driven decisions.
Best Practices for IT Cost Optimization
Whether you use Microsoft, AWS, or Google platforms, your end goal is to save your business money. This means creating a sense of balance between administration, cost optimization, and procurement across the platforms. Here are a few approaches you can take to optimize your IT costs.
Evaluate your resources

First off, you must evaluate your existing resources. Often, companies purchase too much computing power in the cloud to take advantage of the providers' discount deals or overestimate their resource requirements. Experts call it "over-provisioning." Reducing your unused cloud space will free up business spends.

Rightsizing

If you're a business that uses Reserved Instances (RI), rightsizing is especially relevant. RIs are essentially for applications that have a steady, 24/7 usage and need reserved capacity. You can commit to one or three-year contracts instead of entering into long-term agreements to save costs. The major problem is that companies don't monitor their services continuously. If they do so, they can identify underutilized instances, which can be downgraded, changed, or deactivated.

Governance structure

A major approach that your business must consider is establishing a sound governance framework. If you have that in place, you can save a lot on your IT costs with effective resource scheduling by shutting down non-core servers. A governance framework will also help you get your pricing model right, so you can use it efficiently to lower the unit price of cloud consumption. Opting for pay-as-you-go services to manage spikes in workloads and RIs are great options to reduce spending.

Optimum storage services

As companies often buy too much cloud storage, they cannot match their services to the business demands. Storage is usually priced differently as per the level of performance your business requires. Figuring out your storage requirements would ensure you get the right product at the right price.

Consolidate enterprise data centers

When companies expand their operations, they are shifting their traditional data centers to data center switching architecture. Through data center modernization and consolidation efforts, they can save substantially for a data center budget.

Standardize enterprise applications

Enterprise applications represent a large part of an IT budget today, and CIOs can save a lot by standardizing and rationalizing their application portfolios.

Optimize the workforce

Use automation wherever possible to optimize your workforce. Using virtual assistants for routine and everyday tasks can reduce staffing costs and enable a more productive work environment.
---
Trianz Can Help
---
IT costs impact, not just the delivery of IT services, business costs, and revenue but also other business units (BUs) in the organization. The end goal of IT cost optimization is not simply to save costs but to boost business efficiency and ultimately maximize value.
One approach companies can take to identify cost optimization strategies is benchmarking. It allows companies to quantify their performance, compare with their peers, identify performance gaps, define the actions necessary to close those gaps and develop a compelling value proposition. All these efforts will ultimately lead to world-class performance.
Our benchmarking services are powered by over 1.5 million data points in addition to our primary research and data collection capabilities. With access to leaders across more than 40,000 companies in various size segments, industries, and geographic locations, we can quickly gather additional data to address how your business is performing against the competition.
Our Benchmarking Approach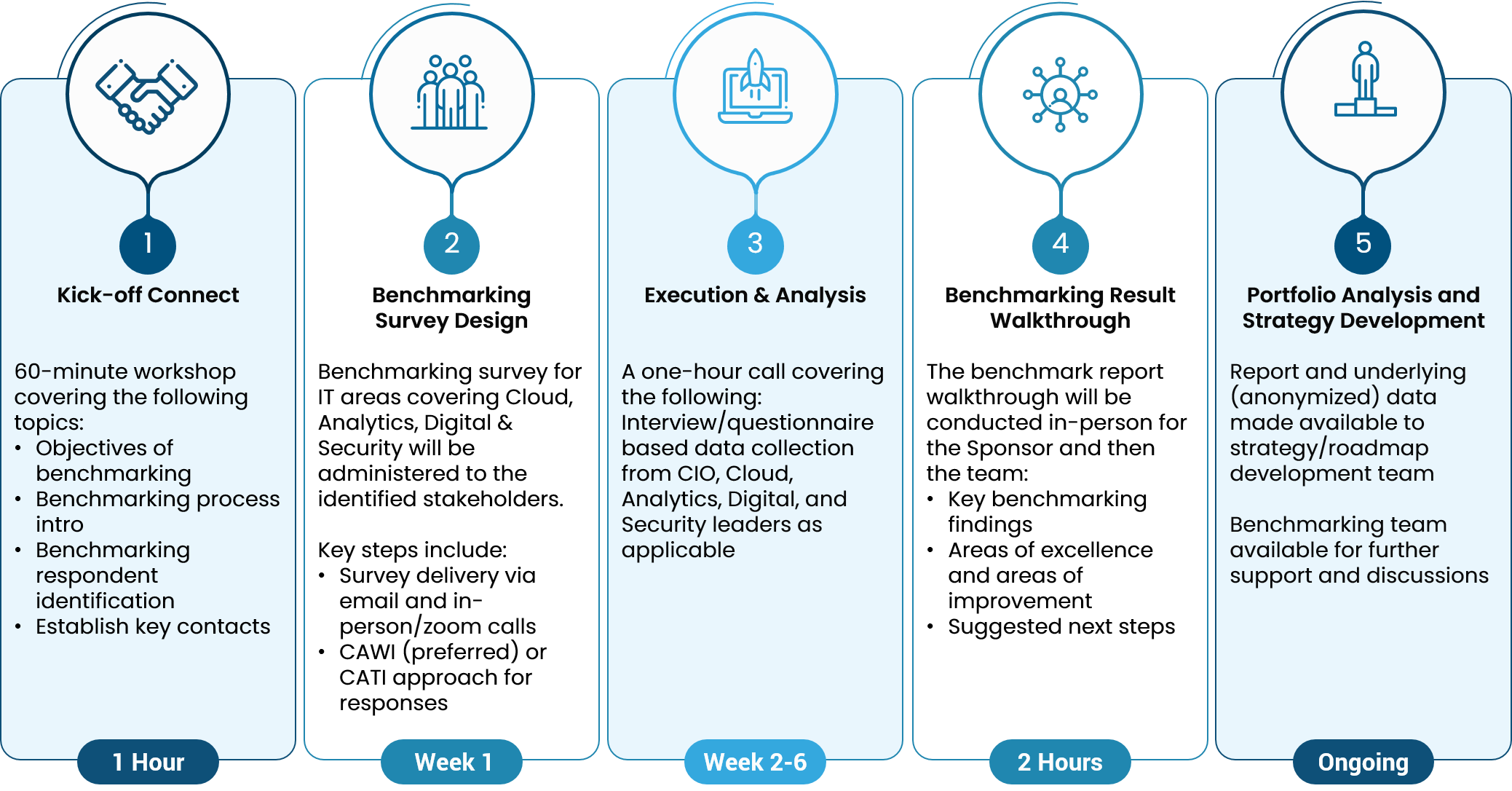 Source: Trasers
Our IT benchmarking covers:
Cloud platforms

Data and analytics

Digital applications engineering

IT infrastructure management

Cybersecurity
Companies must adopt new technologies, make resource optimization a part of company culture, and review existing processes to find opportunities to improve and consolidate, wherever possible. The right IT cost optimization provider can give you comprehensive guidance to deliver optimal cost control and governance in hybrid and multi-cloud environments. If your organization is looking to optimize IT costs, Trianz is here to help.
×