Unpredictability as the New Normal
As if your IT teams didn't have enough to deal with, now they're being challenged to stand up and deliver IT services to remote workers as efficiently as if they were onsite, as well as the hordes of customers using online services and expecting user experiences to be enjoyable and stress free.
There's another theme that needs to be addressed: How to prepare for the unexpected. It's about freeing up overwhelmed IT staff to focus on innovating viable responses to disruption.
In trying times, fragile enterprises suffer permanent structural damage. Fit enterprises, however, emerge from these events stronger and more competitive.
Why Not Transform ITSM?
Fortunately, most digital transformation initiatives require streamlining, integrating, automating and/or cloud enablement of as many processes and labor-intensive tasks as feasible. So, you'd think that would 'lift all ships.'
Unfortunately, legacy IT Service Management (ITSM) systems are often last in line for updating and improvement, either by the vendor or inhouse IT. And, so, the cycle of downtime, lost productivity, and customer dissatisfaction continues to wreak havoc behind the front lines.
Types of Disruptions Over the Past Four Years
Percentage of respondents: multiple respondents allowed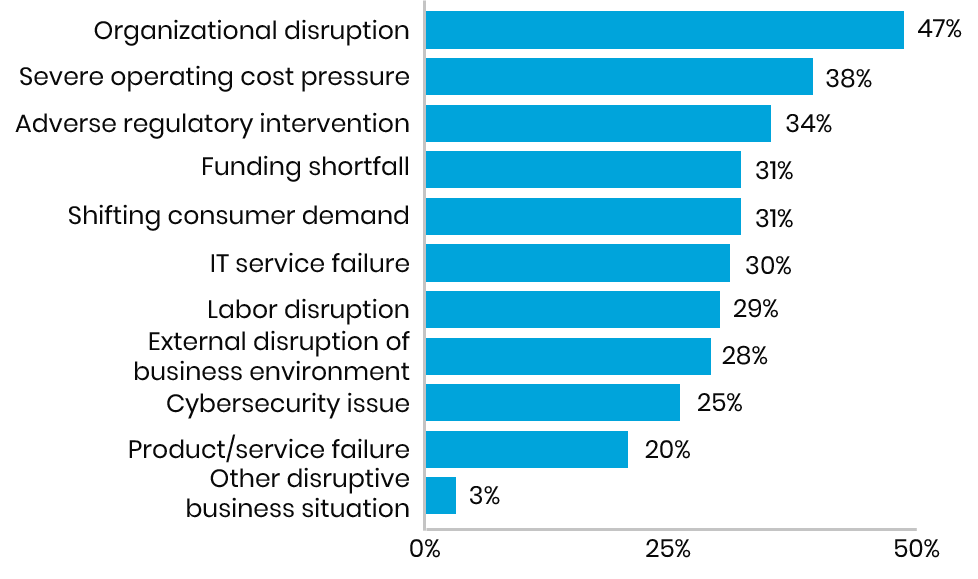 Do Organizations Realize the Impacts of Ineffective ITSM?
Let's look at what it's supposed to do. ITSM should align the delivery of IT services with the needs of the enterprise. However, its primary focus is to apply a set of defined policies, processes, and methods for delivering and improving customer-centric IT services.
Now, what many systems are doing:
Legacy ITSM Limitations
Unplanned service outages

Lack self-service capabilities

Frustrating customer/end user experience

Delayed fulfillment and missed SLAs

Limited visibility into organization processes and services

Manual processes with minimal or no automation

Can't interoperate with new/emerging technologies, e.g. Cloud, AI/ML
Such was the case with a large global client that acquired a company that was only minimally utilizing their ITSM instance. There were no analytics or baselines to drive or manage improvement, IT processes were not automated, inventory data for 75,000 endpoints was unreliable, and call volume was only increasing.
Through our assessment, workshops, and engagement with this client, they were able to gain complete control over the existing ITSM environment and shift client focus onto other business initiatives. After a complete end-to-end revamp of services, they realized faster problem resolution, multi-fold increase in productivity and cost savings by automating catalogs, and improved user satisfaction surveys from a self-service portal.
Their ROI also translated into savings of more than $1M per year with greater compliance and security, and automations resulting in savings of over $350K per year.
Trianz Delivers ­ ITSM Approach and ROI
With more remote workers on your radar, now's the perfect time to replace legacy or home-grown ticketing systems with a cloud based-ITSM solution. Imagine if your team had a one-stop-shop for all your enterprise processes and services. You'd free up time, resources and talent to work on more high value projects, and be available to handle the next crisis or disruption quickly and effectively.
Our ITSM services experts can create effective policies, processes, and procedures to support the various IT services used throughout your extended enterprise. We employ an iterative model ­ from workshop- driven requirements gathering, to alignment of your ITSM processes with the ITIL best practices framework, through implementation of the solution using Agile methodology.
The ITIL framework contains five stages: Service Strategy, Service Design, Service Transition, Service Operation and Continual Service Improvement. Each lifecycle stage outlines key principles, required processes and activities, organization and roles, technology, associated challenges, critical success factors and risks that must be considered, with a focus on utility (fitness for purpose) and warranty (fitness for use).
While the specific ITSM solutions are unique to each company, the right strategies should ensure your business can quickly scale, adapt, modernize, and apply advanced technological solutions to meet the needs of both internal and external customers.
Our Trianz ITSM consultants are experts in making it all work together.
Establish alignment between IT and your business

Centralize and streamline ITSM processes across your organization

Eliminate manual processes and control change cycles with systematic automation

Improve self-service capabilities for enhanced user experiences and IT productivity

Accelerate deployment and project ROI using our proprietary, reusable frameworks and integration adapters. This includes several infrastructure-related automations that help to streamline IT operations and improve efficiency.

Earn your trust as a ServiceNow Premier partner for sales/services and managed services provider, and a BMC technology alliance partner.
The team at Trianz worked tirelessly to propose a system that overcame our business challenges…they simplified our processes, enhanced the system and increased productivity. There's no doubt; our ongoing success was enabled by our partnership with Trianz.

Director, Leading Commercial Automobile Liability Insurance Provider
The Benefits of a Trianz ITSM Solution
Trianz is a leading IT services firm with decades of experience helping clients overcome application management pitfalls. We have partnered with several industry leading application platforms to offer expert assessment and implementation services for these platforms to maximize the availability and performance of your business applications. Our hundreds of satisfied clients have enjoyed enhanced ITSM benefits such as:
Enhanced self-service capabilities for a better user experience with features like announcements, virtual chat, global search, community, approvals, surveys to enhance customer experience

Reduction in service desk call volume and improved first-call resolution when employees can find issue resolutions

Improved visibility into operations and performance

Improved efficiency and reduced operational costs using task automation

ITIL aligned and Integrated end-to-end IT Service Management platform

Centralized and streamlined ITSM processes across the organization
Trianz Advisory Services have been helping Fortune 1000 clients define strategy, roadmaps and execution services for over two decades. If you need a modern ITSM solution right now, we can get it done. Let's talk.