Achieve End-to-End Automation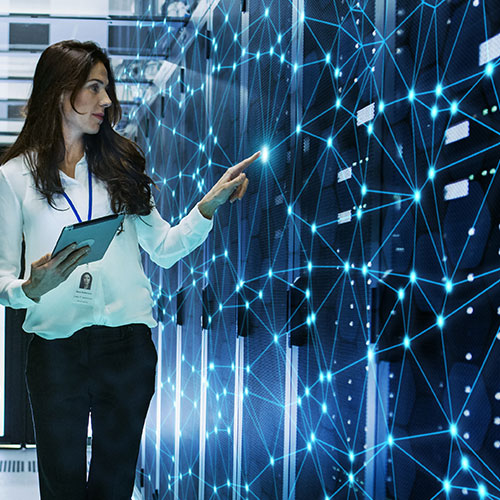 Most businesses have a range of software packages they regularly use, which vary between departments. For some time, this has been the only way to make new functionality available to your staff quickly and affordably.
Over the past decade, there has been a massive change in ITSM processes, bringing centralization and unification to the forefront of every corporate IT plan.
Now, legacy software and incompatibility between software packages are some of the biggest hindrances when aiming for an efficient workflow.
Thankfully, ServiceNow can help you to plan around these issues on your cloud migration journey. With time and planning, you could quickly achieve end-to-end automation using ServiceNow.
Also Read: Self Service it is the Biggest No-Brainer of the Digital Age
Service Mapping with ServiceNow
Service Mapping allows you to build a comprehensive overview of the different devices, applications, and hardware configurations on your network. All businesses can benefit from Service Mapping, thanks to its ability to uncover hidden links between various aspects of your business.
With a comprehensive analysis of both software and hardware aspects of your IT infrastructure, you can use this information to create a service-aware view of your daily IT service operations.
The Benefits of Service Mapping
A key component of IT operational management (ITOM), service mapping ushers in the visibility of infrastructure services interdependencies, accuracy in ongoing change updates, and quicker resolution times powered by automation. Outcomes and benefits of mapping with ServiceNow include: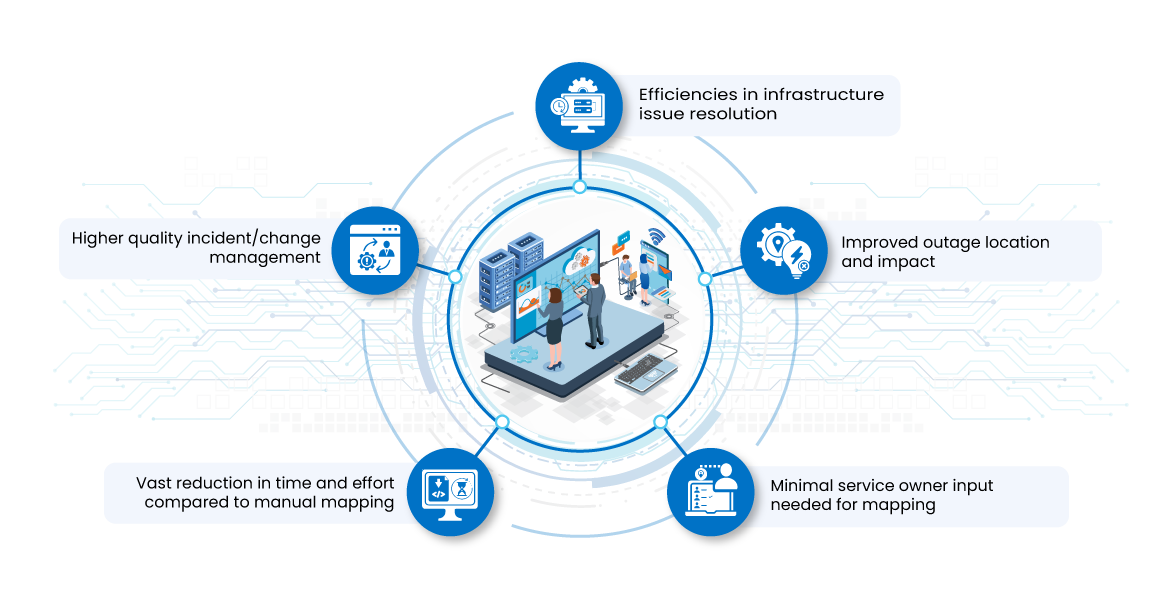 How does Service Mapping work?
Asset Management solutions have existed for decades now, and Service Mapping is an evolution of this used by ServiceNow.
When a device connects to your network, its credentials will be noticed by the network asset discovery program on your server. From here, the discovery program will automatically populate its database, with information like: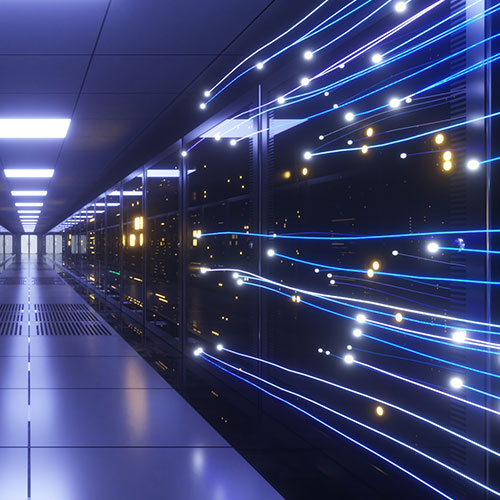 MAC Address
Operating System
Hardware Specifications
Whether it is a Physical or Virtual Machine
With Service Mapping in ServiceNow, this process relies upon a Discovery server and a Management, Instrumentation, and Discovery (MID) server. Discovery uses both horizontal and top-down asset discovery processes, and MID allows for proper communication between the ServiceNow platform and 3rd party software.
Also Read: How to Streamline ITSM Processes
Methods of Service Mapping
Two main approaches exist to discover assets on a network, which are horizontal and top-down.
Horizontal Discovery
Horizontal discovery collects information on configuration items (CI) on your network before adding these details into your configuration management database (CMDB). This is done through a combination of Port Scanning, Classification, Identification and Exploration by the discovery server. You can trigger the discovery process in ServiceNow using 'Quick Discovery', or schedule it on an hourly, daily or weekly basis to suit your needs.
Top-Down Discovery
This method of discovery analyzes your whole network from a single point of access. From here, top-down discovery can track all the dependent services and CIs on your network from start to finish.
Top-down discovery can also be incredibly useful during a system outage. By rescanning your network, you could use top-down to find the culprit, since this discovery method follows the same path each time. The scan will fail to perform a full discovery, but you'll see the final node it was able to analyze, meaning the next node in the list is likely the problem.
Prerequisites for Top-Down Discovery with Service Mapping in ServiceNow
Top-down discovery does require some data before use. The primary credentials ServiceNow may need are:
Host Login Credentials – ServiceNow will need access to login credentials on your host machine. This is so it can determine which applications are running on the host before performing a more in-depth analysis of the application. These could include SSH credentials, Windows login credentials, and others.
Applicative Credentials – ServiceNow uses this term to refer to any application-specific login credentials that are separate from the host machine login credentials. In basic terms, these are the usernames and passwords to the software products your employees use, which could include SQL Server user accounts, Business Intelligence software user accounts, and more.
Also Read: Decentralized vs Centralized ITSM
Mapping your network with Trianz and ServiceNow
Network mapping is a great way to help your business use a more service-aware view of day-to-day IT service operations.
Trianz is a leading authorized and specialized ServiceNow partner who has provided advisory and consultancy services to hundreds of businesses over the past decade. The team has extensive migration experience, helping small and large enterprises completely evolve their existing IT Service Management platform. With the Trianz ServiceNow Quick Start Package, you could completely transform the efficiency of your IT operations within 60 days of commencement.
Also Read: How to Deliver ServiceNow as a Service
Get in touch using the form below, and start planning the mapping of your network ready for the ServiceNow platform with Trianz.