In an era of disruptive innovation and business transformation, technology leaders increasingly find themselves at odds while trying to ensure that business operations remain uninterrupted at the same time focusing their priorities and investments in next-generation cloud-centric operating models. The result, often a mishmash of services from myriad cloud service providers (CSP) that neither integrate well nor deliver the expected success. On the contrary, they end up draining precious organizational resources, limiting access to transformative capabilities, and failing to unlock operational and business value.
As businesses emerge from COVID-19, the verdict is clear that a hybrid or multi-cloud-centric IT model is here to stay and will become the competitive differentiator and value enabler. Integrating disparate IT and OT systems from on-premise to hybrid or multi-cloud cloud is key to optimize delivery capabilities, desired business outcomes, and lasting RoI. On the other hand, secure and agile scalability, automated patch management, and proactive health and compliance check can user in the next generation of ITSM.
Being a pioneer in helping organizations with their digital transformation and cloud management efforts, Trianz has launched Concierto.cloud, a multi-cloud management platform that addresses all the above-mentioned requirements and more for an efficient and rewarding cloud journey.
Concierto.Cloud can help businesses to adopt, migrate, and better understand their cloud infrastructure, enabling them to deliver improved IT services. All SaaS, IaaS, and PaaS services can all be accessed from a single unified dashboard, with full configuration and orchestration capabilities that can propagate between multi- and hybrid-cloud environments. In short, Concierto.Cloud is the end-to-end solution to deploy and orchestrate hybrid or multi-cloud environments to allow organizations to exploit portability and management of their IT assets while ensuring that governance and security requirements are met, always.
Challenges for the IT Department
---
IT Operations Management

ITOM encompasses the management of IT operations. This includes provisioning IT resources, maintaining the availability of resources, performance management, event management, security, and data governance. Digitalization of business processes and demand for actionable insight fueled by big data analytics is bridging the gaps between IT and business. What is required, however, a sustained ability to modernize and transform IT operating models iteratively based on use cases and businesses to respond to the new breed of on-demand SaaS and IaaS offering.

IT Service Management

Traditionally, ITSM has remained inward-looking when it comes to service delivery by configuring, monitoring, and delivering IT services defined by outcomes-based SLAs. This approach, however, does not work well in today's context where a resilient and responsive ITSM is table stakes and not a differentiator. What matters is now the ITSM can become business-focused by letting go of its risk-averse culture and help the business meet their objectives and deliver higher levels of customer service and satisfaction.

Health, Security, and Patch Management

The rise of cyberattacks during COVID-19 has accentuated the need for network, infra, and data security in a multi-cloud landscape. A responsive and effective patch management process along with improved vigilance, anomaly detection, and remediation can significantly improve the security posture of an organization.
---
Take your ITSM Resilience to the Next Level with Concierto.Cloud
---
Concierto.Cloud breaks down virtual barriers between IT servers, services, software, and business users. By enabling centralized cloud management and orchestration of IT resources across complex and heterogeneous multi-cloud environments, Concierto.cloud can help IT leaders proactively bring the pieces of cloud management and governance together and improve their ITSM and cybersecurity resilience.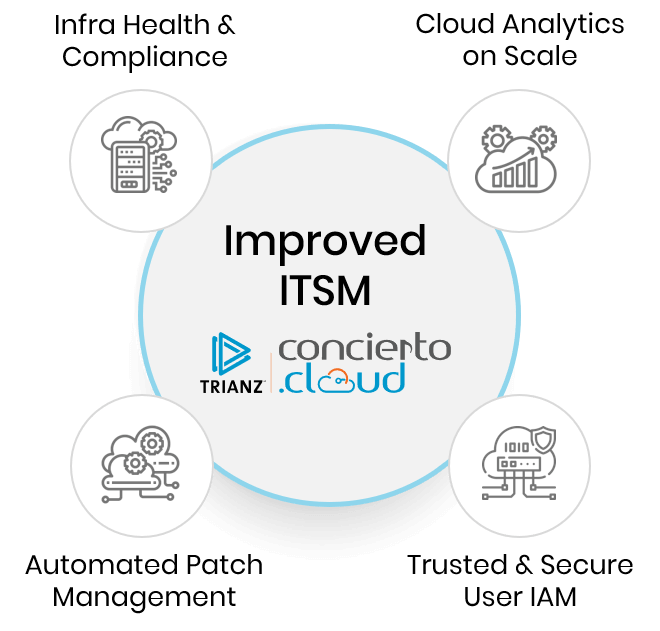 Some of the key features include:
Trusted and Secure User IAM in a World of Remote Work

To ensure that hybrid or multi-cloud cloud infra delivers the desired outcomes without compromising compliance, it is vital for businesses to control user access and critical information within the organization, especially when most of the employees are now working remotely. Concierto.cloud provides comprehensive control on secure user access and identity enabled by multi-tenancy, federated SSO-based authentication, group-based access, and policy control.

Cloud Analytics on Scale

The ever-evolving nature of a multi-cloud environment makes infra operations performance management a herculean task for IT leaders. On the other hand, optimal utilization of both cloud and on-prem resources can help realize the desired business results and this requires tech leaders to drive actionable improvements with multi-dimensional data-backed decisions. Concierto.cloud analytics empowers operations teams and management to precisely achieve these objectives with its powerful AI-powered predictive analytics to comprehend the large volumes of raw data through simple, easy-to-understand visualizations and metrics.

Automated Patch Management

An expanding and diverse cloud environment also expose organizations to cyber-attacks and other vulnerabilities that could be avoided by proactively deploying the operating system and application patches. One of the key features within the Concierto.cloud MCMP is the ability to automate end-to-end patch management thereby improving endpoint security, compliance, and reduced risk to IT operations. Using Concierto.cloud as a central component of patching strategy has resulted in customers gaining up to 40% inefficiency.

Infra Health & Compliance

Periodic health and security audits are essential for IT organizations to proactively identify and correct issues before they begin to affect key operational services. As the cloud IT infra expands and becomes more diversified and dynamic, it becomes difficult to keep deployments and applications running smoothly while at the same time keeping track of health, security, and policy adherence. The Health Check & Compliance module of Concierto.cloud provides automated health checks and compliance based on the organization's security standards, audit reporting, and automated remedial actions to fix non-compliance. The Health check compliance module within Concierto.cloud can be integrated with an organization's service management workflow or leverages native service management capabilities to open an incident upon any non-compliance identified during the scanning process, followed by change management to remediate the compliance deviations.
Need to drive velocity, efficiency, lower costs and move ITSM and ITOM to the next level? Scheduling a demo today to learn more about the Concierto.cloud Platform and its customizable capabilities.