Harness The Value Of Remote-First IT
Who knew that a global pandemic would be a key accelerant of digital transformation? Yet, it's clear now that most businesses are relying on their digital services and infrastructure to support a 'remote-first' IT strategy.
Just as 'mobile first' design enabled telecommuting workers to plug into corporate networks in real time starting a decade ago, the transition to supporting a sudden, massive increase in remote workers has uncovered some enterprise-scale benefits.
By digitizing processes and standardizing remote collaboration and workflows, organizations are strengthening their business continuity position, improving productivity and work-life balance, and helping to ensure employee safety.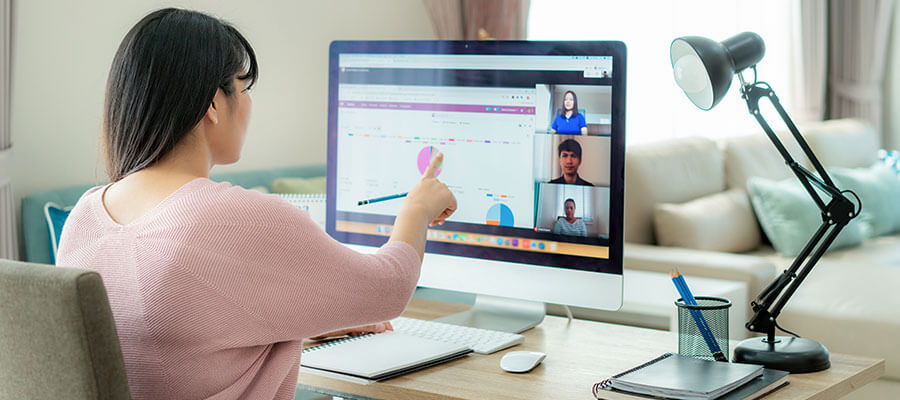 And, future telecommuting will benefit more than just your workforce: According to Global Workforce, the combined savings from remote working across industries could exceed $700 billion a year or $11k per employee. National productivity could increase by five million man-years or $270 billion worth of work. Corporations could use this cash to catalyze business growth, invest in strategic digital transformation, and extend their market reach.
Go Remote With Trianz
Trianz engineers are big picture thinkers. We have helped hundreds of clients realize the value of remote-first IT with insights and solutions to not only improve the effectiveness of your remote technologies and processes, but also taking into consideration your digital transformation goals.
By evaluating the risks-benefits of various initiatives and balancing remote-first IT and critical digital and cloud enablement projects, we help you maintain momentum on both fronts. Here is our list of key priorities for best-in-class remote working:
Virtual Workspace Solutions
Enabling users to connect remotely and securely to virtual workspaces should be Priority #1 of your remote plan. Trianz can build corporate virtual desktops via Citrix/VMWare virtual desktop infrastructure (VDI) platforms, managed and operated by your IT staff. By providing a safe, familiar and efficient user experience, employee productivity is 'virtually' assured.
Ensure Safety And Compliance
Once the network is live and secure, protecting the health and wellbeing of employees, customers, and partners is top of mind. This has driven global work-from-home policies and the surge in use of online collaboration platforms.
For most, this triggered their business continuity plans, resizing of their infrastructure, the creation of new workflows and security controls. It's hard to overestimate the amount of strategy and planning that goes into these efforts.
Secure Enterprise Collaboration
To cover all the 'remote' bases, we deploy popular tools such as Microsoft Teams, Microsoft 365 for Business, Zoom, and Slack. These solutions are performance proven to support remote work, including seamless and secure voice, video, and text communications.
Is imagining the flow of sensitive traffic between remote users and your internal systems giving you night terrors? We can help with that. Our Remote Security Services use the latest E2EE cryptographic and authentication standards and policies, including tunneled VPN solutions like the Sophos XG Firewall, Palo Alto GlobalProtect, and ZScaler Private Access.
The Trianz Security Framework and readiness to optimize the new remote workplace has been rated #1 by Fortune 500 clients across industries
Hardened Endpoint Security Solutions
The most critical (and overlooked) security vulnerabilities are at the endpoints. We enforce security policies on all corporate and BYOD mobile devices using administrator policy on Android and iOS devices, group policy and domain controls on Windows and, for macOS, Enterprise Mobile Device Management (MDM).
Productivity And Security Tracking
Keeping track of workflow productivity is NOT acting like Big Brother. After all, employees are observed and evaluated onsite on a fairly regular basis. To that end, we offer reporting on users and usage patterns; track log-in and log-off metrics, as well as application-specific uptimes per user session.
Timely OS And Application Patching
Trianz provides rapid, large-scale patching and removal of end-of-life (EOL) software on all your remote applications and devices to ensure airtight security of your corporate data ­ both in-transit and at-rest.
Trianz Brings Best Practices And Lessons Learned
Companies are seeing their business continuity planning, operational agility, and IT scalability tested like never before. Working together internally and with external IT services providers like Trianz, they can gain operational transparency and draw important lessons for the future of their remote business operations ­ and their Digital Transformation roadmap.
Trianz is a leading IT services firm with decades of experience helping clients overcome portal and infrastructure pitfalls. We have partnered with several industry leading application platforms to offer expert assessment and implementation services for these platforms to maximize the availability and performance of your business applications.
Get in touch with our team today and explore the art of what's possible for your remote workforce.