Security and Control Over IT Assets
Any device can be connected to your network, and now that most of the workforce is working remotely, the vulnerabilities of these numerous endpoints are more visible than ever. Enterprises have often found it difficult to protect and manage corporate, mobile, and bring your own device (BYOD) assets from cybersecurity risks. It hasn't gotten any easier.
Endpoints exist practically everywhere in the modern office – laptops, workstations, tablets, smartphones, printers, smart TVs. It's imperative for IT to create a secure environment that encompasses onsite, mobile, and multi-location workers and their devices to ensure uninterrupted access, audit compliance, and overspend.
Creating an endpoint management system will also help you gain complete control over corporate IT assets, reduce exposures, and facilitate mediation when attacks or threats are detected.
How Can You Protect Distributed Endpoints?
Endpoint management is essentially the ability to centrally discover, provision, deploy, update, and troubleshoot endpoint devices within an organization. Your security teams must ensure that all your devices are hardened, compliant, and monitored to provide 'round-the-clock' security and operational efficiency.
For most enterprises, a disparate set of parallel point solutions to manage these diverse endpoints is not scalable and cost-effective. An endpoint management platform solves this challenge with a smart, unified solution to manage all your enterprise customers' endpoints from a single place.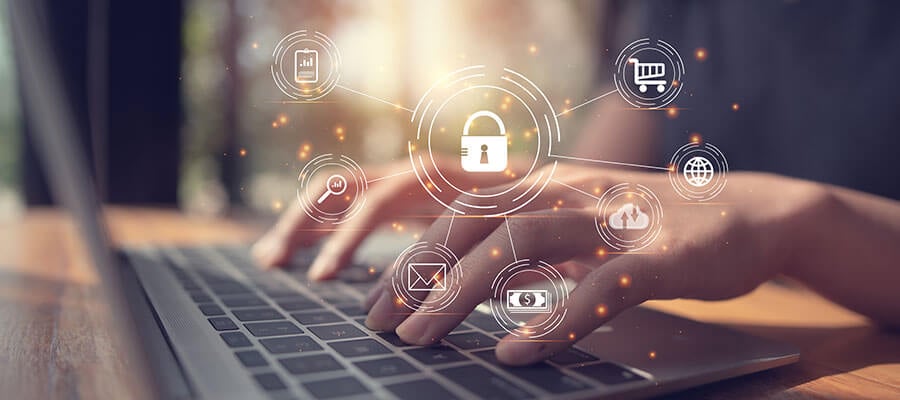 What does optimal look like? Enterprises should aim for centralized and cost-effective management of assets including data center devices, hybrid cloud infrastructure, workstations, smart devices, BYOD (bring your own device), and IoT endpoint with key focus on security and performance.
What Endpoint Management as a Service Looks Like
Trianz is a premiere provider of Endpoint Management as a Service, which includes:
Automated Patch Management

Automation of the entire patch management process to proactively improve your security posture while reducing time, cost, and effort via relevant patches, security policies, virus definition, pattern, and agent updates.

OS Provisioning and Software Distribution

Quick provision and application distribution to new servers or workstation images across the networks from a single, centralized location.

Unified Endpoint Management

Proactive security monitoring to reduce risks due to non-compliant or insecure configurations as well as to reduce potential threats and security challenges from BYOD.

Mobile Device Management

Management of mobile devices running Android, iOS, Windows, and Chrome OS with no compromise to corporate policies.
Our services deliver complete remote management of your IT assets and 24/7 dedicated support. A best-in-class centralized solution offers you real-time visibility into all your enterprise assets so you can get a sense of security threats and vulnerabilities. We help quickly visualize risks while narrowing down the endpoint issues that matter the most, thereby driving consistency and predictability.
The outcome of all these will be faster response, well-aligned processes, and an enhanced security posture for your organization.
Manage Your Endpoints with Trianz
Trianz is a leading endpoint management consulting firm with decades of experience helping our clients secure their infrastructure. This prolonged pandemic has not only stretched your resources thin, most likely, it also makes it difficult to monitor activity while keeping up with other logistical challenges.
As a change agent, Trianz believes in improving the status quo in everything we do. Our strategic goal is to empower our clients to successfully transition into the digital age and to reduce expenditure on application management — with support being the No. 1 source of capital required.
We can help you plan and implement a comprehensive endpoint management solution that fortifies your network against cyberattacks. Get in touch with our endpoint management team and start securing the edge of your network today!