Practitioners in the data realm have gone through various acronyms over the years. It all started with "Decision Support Systems" followed by "Data Warehouse", "Data Marts", "Data Lakes", "Data Fabric", and "Data Mesh", amongst storage formats of RDBMS, MPP, Big Data, Blob, Parquet, Iceberg, etc., and data collection, consolidation, and consumption patterns that have evolved with technology.
While the underlying need has always been 'Connecting People to Data', technology changes have made practitioners think differently to incorporate 3 facets: Search, Secure, and Share. We are often asked: Do we need to create data lakes or migrate from on-prem to cloud, etc.? While all questions are valid, a few broad thoughts need to be kept in perspective while addressing these questions:
Organizations have invested in tools and technologies over the years, and it can't be ignored

Companies have defined ways of working when it comes to processing, security, deployment, etc

Enterprises are most likely on a transformation journey or going to start one soon. It can range from migration to cloud (either lift and shift or transformation) or modernization or shifting left to adapt to the newer technical practices
Most Enterprises have implemented either a data warehouse (pre-dominantly on-prem) or a data lake and, in some cases, virtualization techniques to create data fabric and, in quite a few cases, have migrated to cloud (again pre-dominantly Lift and Shift)  a pattern that is familiar to most practitioners who come across the same scenario Enterprise after Enterprise in which they consult.
This situation is resolved effectively and efficiently by the Data Mesh philosophy. We at Trianz offer Extrica, a configurable Data Mesh Platform built on AWS. The key philosophy around Extrica is Search| Secure | Share. The core features include:
Data is published as a Product -> Data Producer

Data is governed at motion and rest -> Data Producer

Data is owned by the Domain owner -> Data Producer

Data availability everywhere (Searchable, Self-service, Secured)-> Data Consumer
With the above thoughts on Extrica, one may ask if we need to create a data lake/data fabric. We as practitioners have to bear in mind the following:
Cloud Strategy -> Most enterprises are moving to cloud, both from an application and data perspective. In the application space, there is bound to be modernization of the applications, integration tools, etc., post the migration to cloud. This forces enterprises to think about the modernization of the data ecosystem.

Data Strategy -> Most enterprises are moving their on-prem data ecosystems to cloud and realize a lift and shift may only solve the issue temporarily. They must strategize the cloud data strategy that may or may not involve a data lake or data fabric.

Enterprises have invested in Data Governance and Data Security tools. The progress on the implementation of data catalogs, security policies, and role definitions needs to be looked into

Organizations have also invested in Data Virtualization tools trying to implement data fabric but soon realize the associated costs both in terms of compute and maintenance
If one considers it right, the following capabilities are needed in a Data Mesh product to resolve the many thoughts mentioned above as well as serve as a true product that allows the capability of 'Connecting People to Data' with ease of creation and collaboration:
Connectivity and Configuration: Leverages data anywhere in any format

Security and Compliance: Data security in motion and at rest

Instant Data Query: Ability to query data anywhere on the fly

Ease of Integration: Open API driven methodology

Automated Data Discovery: Searchability of data products via data marketspace

Federated Governance: Data product owners define governance policies

ML Pipelines for Data Quality and Trust Scores: Self-learning and healing capabilities

Customized Access Control: Attribute-based access control (ABAC)/Role-based access control (RBAC)/ Fine grained authorization (FGA) per policy

Collaboration: Through Slack, Teams, and other channels between users

Metadata Management: Open APIs allow metadata to propagate within the enterprise
At Trianz, based on the implementation experience of Extrica, the following stats have emerged: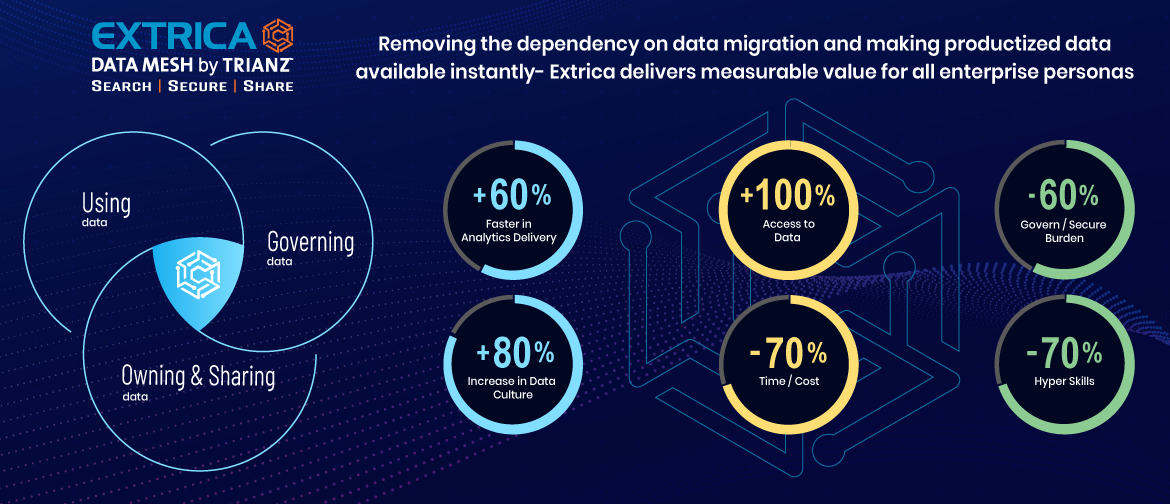 In conclusion, Data Mesh allows all the features practitioners have aspired for in a data ecosystem without compromising "Connecting People to Data".
For more details please reach out [email protected]