Reducing Data Complexity to Increase Business Intelligence
Business intelligence (BI) is one of the most valuable assets of modern enterprises. The collection, analysis, storage, and retrieval of vast amounts of data relevant to the organization lies at the heart of the process.
However, if handled poorly, data can end up in silos, becoming fragmented, unstructured, and inaccessible to end-users. With a well-optimized data warehouse, silos can be eliminated by collecting, curating, and managing data from multiple sources in a single central location.
The core of every successful business intelligence system is a robust and reliable data warehouse. Whether that data is structured, semi-structured, or unstructured — data warehouse solutions provide a uniform interface to help organizations make the most of their enterprise data to create business opportunities and deliver a competitive edge.
---
Benefits of a Data Warehouse
---
Data warehouse solutions arose several decades ago as a response to retail sales challenges. Since then, their adoption has spread through every industry reliant on solid data to make intelligent business decisions.
Firms that rely on vast amounts of data from diverse sources are particularly well-suited to adopting an analytics data warehouse. The capabilities of data warehousing solutions enable powerful analytics and visualization solutions to be used against complex data sets.
While such solutions were once exclusively reserved for IT experts and those from a technical, scientific, or academic background, one of the significant advantages of the modern data warehouse is the simplicity of the technology used to access complex data sets.
Today, methods for data analysis have been democratized in recent years thanks to data warehousing solutions such as Amazon Redshift, IBM Db2, Snowflake, Google BigQuery, Azure SQL, Oracle, Teradata, SAP HANA, and many more.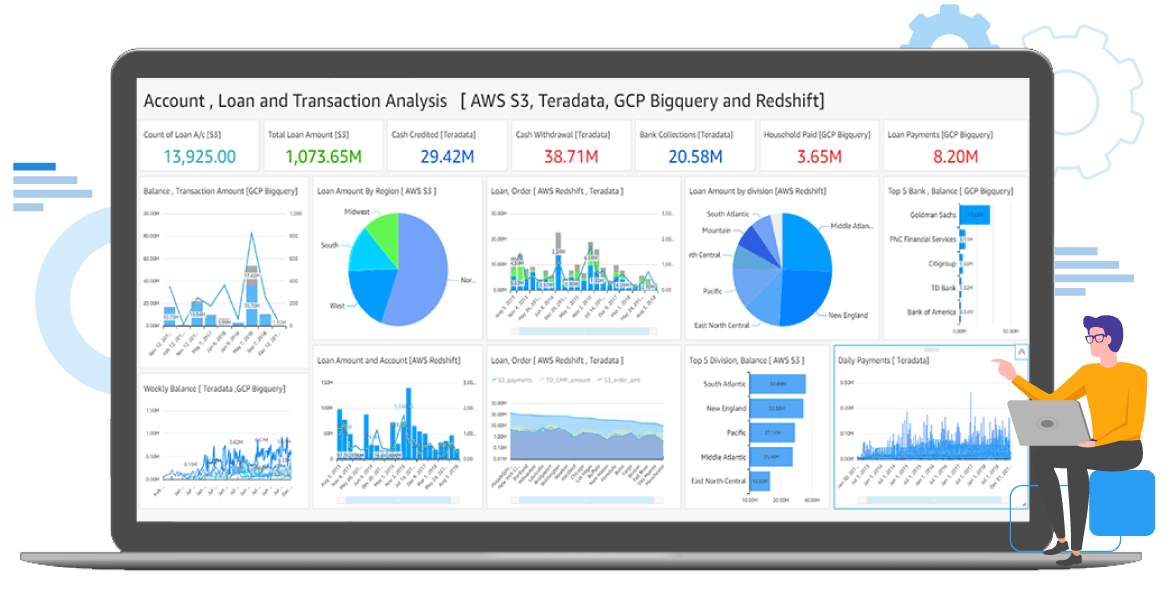 Trianz has built its own AFQ Connectors to break down the data barriers by providing the ability to connect and query databases across on-prem and other public cloud environments. These connectors support SQL, Java Database Connectivity (JDBC), and Open Database Connectivity (ODBC) across public/private cloud, hybrid-cloud, and on-premises IT infrastructure types.
---
Industries That Rely Heavily on Data Warehousing
---
Organizations that value a rigid, demonstrable, and systematic approach to decision-making value data warehousing for its ability to collect and produce actionable information from a single portal.
While any industry inundated with vast amounts of data can reap the benefits of a data warehouse solution, here are a few of the industries witnessing their potential:
Airlines
Continental Airlines uses analytics gained from its Teradata platform to explore how mobile technology can enhance passenger service by connecting flights. Teradata allowed the airline to access connection information to conduct time and motion studies on how long it would take to trolley customers to the appropriate gate. In addition, the data warehouse solution allowed the airline to analyze passenger data and use predictive analytics to assess the likelihood of no-shows and flight cancellations.
With advances in integration between data warehousing and front-line systems, airlines can now better understand the marketplace and predict how the disruptive changes will impact the industry's future.
Healthcare
Healthcare organizations use data warehousing to systematically monitor and measure different chronic conditions, care delivery processes, payments, and standard operating procedures. With the volume of clinical data constantly increasing, an enterprise data warehouse (EDW) acts as a single-point platform that offers end-to-end views of data stored across multiple systems.
Healthcare organizations are eliminating duplicate records, errors, and inconsistent data from this central platform to improve patient care, reduce costs, increase efficiencies, and improve customer service.
Banking
The banking industry is using data warehouses to provide a consolidated view of data to gain insights and engage more effectively with customers. However, the most common way in which banking institutions use big data is through risk management.
By using machine learning algorithms for risk management, the financial industry makes better credit risk decisions, monitors portfolios to predict payment errors, detects fraudulent activity before the transaction is completed, and predicts operational losses.
Insurance
With Big Data analytics technologies, insurers can structure claims data into a detailed analytic resource when combined with customer information to calculate raw statistics and detect trends that form the basis for their reporting.
For example, when using predictive analytics combined with genetic profiling, life insurers can distinguish risks that are beyond the insured party's control, allowing them to adjust the policy and premiums accordingly. By having a data solution in place, carriers are in a better position to reach out and provide personalized care to alleviate potential issues and increase customer retention.
---
Using a Data Warehouse
---
The Trianz data warehouse consulting team specializes in empowering organizations to manage powerful data solutions.
Successful outcomes of data warehouse consulting services are focused on enabling business users to rapidly access critical data from multiple sources in a single centralized location. This solution should not require in-depth technical knowledge, specialist information about the structure of the data source, or a detailed understanding of the system behind it. Simply put, the system should be capable of delivering effective BI solutions to its users.
Achieving these goals can have a tremendous transformational effect, often resulting in better evidence-based decision making, richer visualization technologies, and reusable workflows to power future success.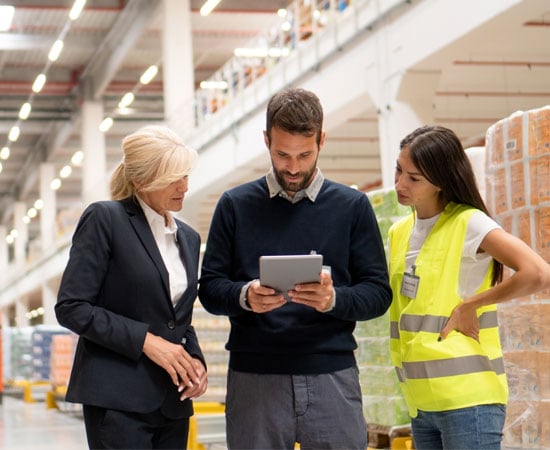 Data warehousing solutions provide the tools and skills necessary to interrogate information from data that may not otherwise yield results. Our clients often have found hidden patterns from historical data sets that would have remained invisible without data warehousing strategies. These data relationships are frequently the keys to success as they enable organizations to capitalize on future opportunities.
---
Transforming Business With an Effective Data Warehouse
---
Trianz leads the industry in creating data warehouse solutions for large enterprise clients. Enabling powerful collaboration and delivering industry-changing insights, our data warehouse solutions prepare businesses for the future.
Our Technology Competencies and Partnerships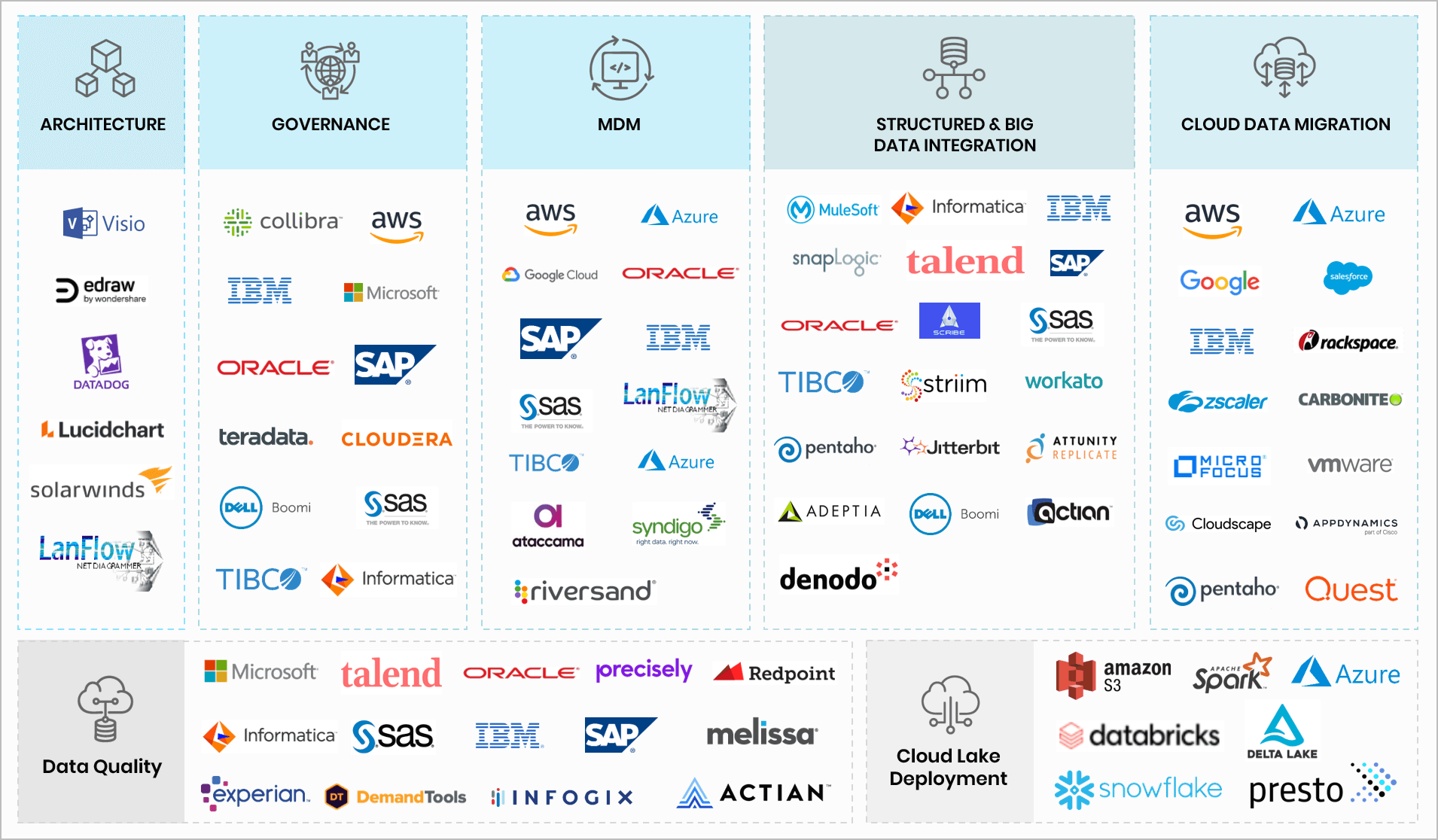 By aligning our data warehousing expertise with principal stakeholder interests, we enable organizations to stay ahead of the curve with their data solutions.
×