Enable Automation at Every Level
---
At Trianz, we understand the importance of creating modern, compelling IT service experiences that enable secure, automated digital operations. This is reflected in our longstanding partnership with ServiceNow, the leading choice in IT service management.
With over 150 successful service management deployments, we can help you overcome a myriad of challenges when migrating to the Now platform. Let's explore those challenges and how we can deliver greater business value with our ServiceNow ITSM migration services.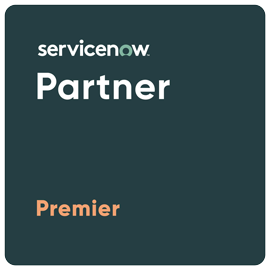 ---
Challenges with Legacy ITSM
---
IT services are the foundation of wider business operations. So, when these services go offline, it has a significant negative business impact. Here are some key considerations with ITSM that organizations deal with:
Too many ITSM services in quick succession
After developing an ITSM strategy, some enterprises move too quickly to implement and enable new services. This can overwhelm IT employees who need to learn new processes and digital workflows to support these services. Similarly, if employee knowledge is not available for new services, the service desk will be inundated with low-level service requests.
This scenario would benefit from the IT infrastructure library (ITIL), a CMDB and accompanying CI listings, and a self-service knowledge base.
IT silos and lack of ITSM business alignment
ITSM is used to deliver business services. If those services are not aligned with business needs, they won't deliver the expected outcomes. IT silos also have a negative impact by increasing the complexity of incident management, where IT teams must deal with disparate tools and unstandardized workflows day-to-day.
This scenario would benefit from standardizing dependencies, consolidating the number of tools or services in use, and centralizing ITSM orchestration.
Managing expectations for ITSM with clear communications
ITSM offers immense value to enterprises, but clearly communicating how these benefits appear is a challenge. This leads to problems with stakeholders funding and approving new services, as IT teams are unable to demonstrate returns on investment or projected business outcomes. For existing services, IT teams also deal with unrealistic service-level expectations that make them struggle to prioritize incidents effectively.
This scenario can be improved with information sharing between IT teams and departments, alongside clearly defined service-level agreements (SLAs) and visualized data analytics.
---
Business Outcomes After ServiceNow ITSM Migration
---
Trianz transforms IT service management strategies and equips IT teams with the ability to deliver digitalized, modernized IT services. One way we achieve this is via the migration of legacy ITSM solutions to the cloud.
As a Premier Partner, we then unlock new business value for our clients using cloud-native computing technologies to meet business objectives.
Benefit from reduced expenses for greater IT return on investment (ROI) thanks to lower IT operational costs and efficiency in the cloud.

Enjoy centralized and streamlined ITSM processes for people across the entire organization to drive alignment.

Automate low-level routine service tasks and free up IT teams to work on more complex problems.

Enable customer service agents to deliver higher-quality services from the cloud for a better customer experience (CX). Supplement this with self-service capabilities to help end users help themselves and establish greater all round service desk availability.

Expedite service delivery with cloud resource spooling for implementation in hours instead of months.

Reduce the prevalence of human error during implementation with CI and resource templates.

Enable new cloud-native service offerings that are unavailable on-premises.

Gain 360-degree visibility into operations and performance to optimize over the long term.
---
How We Achieve Business Outcomes During ServiceNow ITSM Migration
---
ServiceNow is a powerful ITSM tool for enterprises. Trianz can help your team acquire new skills and functionality to maximize the value of your ServiceNow migration, including:
Legacy ITSM systems migration
Successful migration of legacy systems to cloud-native ITSM platforms.
Data migration to a cloud data warehouse for legacy ITSM platforms.
Templatized foundations for data loading to expedite real-time implementation and demand scaling.
ITSM business alignment
Mapping existing technology functions to corresponding ServiceNow modules and applications for centralized orchestration and control.
Educational workshops for employees and C-suite stakeholders to align business processes and implement best practices relating to service requests, incident management, problem resolution and change management.
Management of service resources by establishing ITIL catalog items with accompanying fulfilment tasks, service level agreements (SLAs) and operational level agreements (OLAs).
Development of pre-defined communication templates to notify and update employees during organizational change.
Streamline and Integrate ITSM asset management
Implementing lite configuration management databases (CMDBs) interfaces to manage compute and network configuration items (CI) from spreadsheets or via external integrations.
Possibility to integrate third-party service management solutions like Jira Service Management and BMC Helix or BMC Remedy with ServiceNow.
Massive potential to integrate and centrally control analytics, data management, robotic process automation (RPA), messaging or conferencing, and other business solutions.
Keep the lights on with IT Operations Management
Centralize administration and apply orchestration to servers, applications, and containers for elastic auto-scaling and automated failovers.
Track events, faults, and incident management workflows and improve them with enrichment, automation, and greater business context.
Significantly reduce the mean time to repair (MTTR).
Minimize the overall service impact on the business.
Establish a service catalog and standardize your services
Deliver great experiences to internal and external customers by standardizing components, knowledge, workflows, and SLAs.
Model and automate the necessary steps to deploy or fulfill services, accelerating service delivery.
Reduce overall ITOM and service delivery expenditures.
Simplify interactions with customers.
---
What Sets Trianz Apart with ServiceNow ITSM Migration?
---
Trianz is focused on helping businesses successfully execute their digital evolution to become leaders in their industry. We reduce fear and uncertainty with new technologies through a combination of workforce education, careful execution, and long-term business support.
With Trianz as your strategic partner, you can benefit from:
A 100% success rate over the past decade with ITSM and IT infrastructure management solutions deployment.

Accredited ServiceNow Premier Partner and reseller for optimal ServiceNow implementation.

A dedicated ServiceNow Technical Center of Excellence from which skilled professionals work on your digital transformation.

Experience with advisory services for Fortune 1000 clients, including service management strategy, technology roadmaps, and project execution.

Deep knowledge on end-to-end IT ecosystem automation using ServiceNow

Integrate third-party SaaS tools, or redevelop custom application integrations to work effectively in ServiceNow.

Continuous experience in upgrading ServiceNow to new release versions, and reusable integration frameworks for the vast majority of vendor discovery tools.

Comprehensive quality assurance activities and launch support for new services.
Trianz has helped hundreds of organizations migrate to the ServiceNow platform. Whether you are evaluating ServiceNow or recently migrated to the Now Platform, having a partner that can navigate a complex IT environment will help you achieve the most value from your investment.
×