What does the transformation of Finance Ops mean?
---
In a global study covering digital transformation vision, strategy, technology and implementation across enterprises, we asked 550+ leaders in Finance 'what does digital transformation mean to your organization?'. Our focus was on the digitalization of finance operations:
Over 50% of respondents said digital transformations means sharing more information about how finance works through better websites and portals. Less than half the respondents have revamped their finance processes for cost saving, enhanced efficiency and, improved stakeholder experiences.
However, when we studied the responses of the most successful finance organizations who are less than 6% of the total population, we found them to better understand the definition of digital transformation of finance from their perspective.
Perceptions of Finance Operations Transformation - All Companies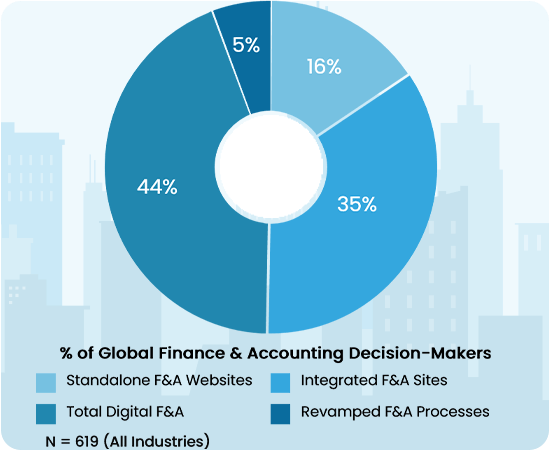 Source: Trasers
---
What is Digital Transformation of Finance?
All Companies v/s Digital Champions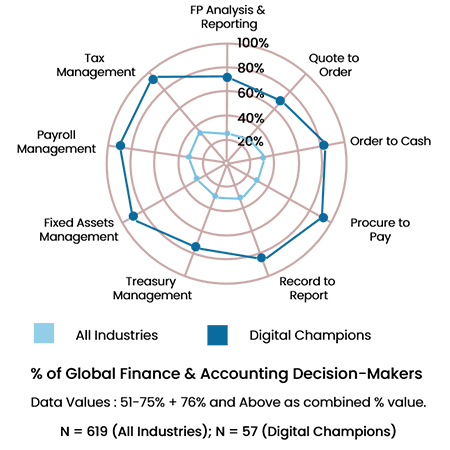 Source: Trasers
This group believes that Finance must lead all other functions in understanding where the business is and where it is headed. It believes that Finance is now a 'front-office' function in order to ensure that transactions handled by front-line functions do not break down due to a lack of integration with financial processes such as pricing, discounts, terms, approvals etc. They understand that this level of agility and responsiveness to ensure that transaction velocity and customer or partner experience is outstanding requires them to reinvent the finance operating value chain. And finally, finance has to influence a new, data-driven culture across management.

The digital transformation of Finance operations has three dimensions. First, Finance has to digitalize its own business processes to gain speed and efficiency.
Second, it has move from a back-office to a front office posture with real-time integration into all major transactional processes in Marketing, Sales, Service, Manufacturing, Supply Chain and Procurement.
Finally, Finance has to become the chief proponent of a 'data-driven' culture by tracking, measuring and communicating performance using the language of KPIs.

We will help your Finance value chain evolve into a dynamic, integrated and KPI driven operation
---
Digital Enterprise Evolution Model™ - Finance Operations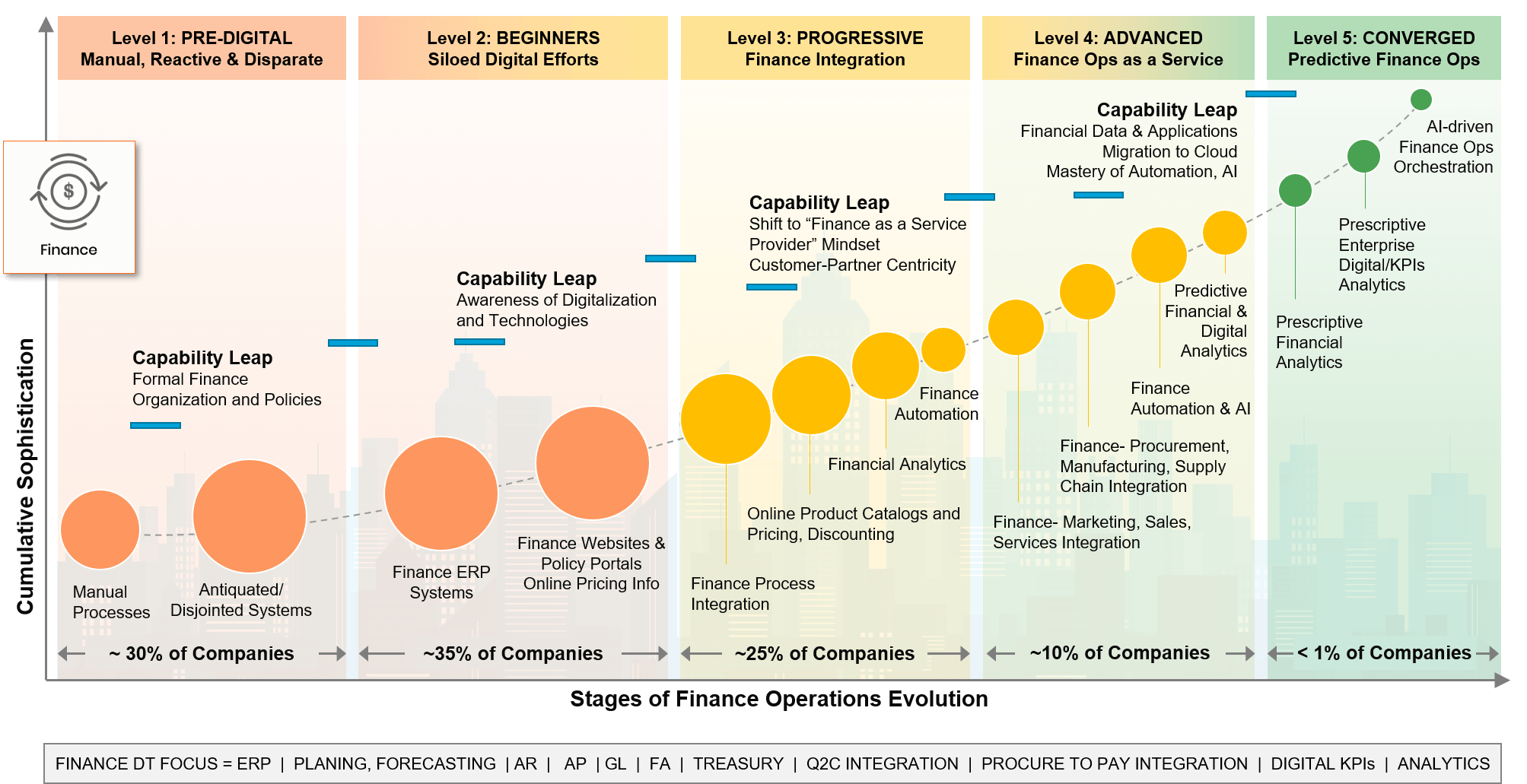 Copyright © 2022 Trianz
---
The name of the game in highly successful, digitalized enterprises is high-velocity, adaptability and becoming predictive. Finance is the arterial system of any organization since each function has to transact with external parties for executing their mission. In digitalized enterprises, high velocity business processes and undisrupted experience to stakeholders such as customers, partners, regulators, leadership and management is critical.
While there are many aspects to think about such as corporate finance, credit, risk management etc. the biggest near term influence in the digital transformation of the enterprise is in accounting and operations. Financial processes have to first integrate in real time and help front line functions become predictive.
These are the core transformation themes in which Trianz partners with clients in the Finance function.
---

Focus on Finance Ops Digitalization and Integration
Almost every well-run finance organization already leverages financial systems such as Oracle, SAP, Infor etc. However, there are processes that are highly customized and reside outside these systems and it is critical to digitalize and integrate these with front-line functions.

Invest in Financial Analytics
Making financial reporting a routine operation, Finance organizations have to evolve immediately to a predictive organization. This can only happen when you have a grip on all your financial data, integrate it and develop 'what-if' visualization and analytics capabilities across financial metrics.

Promote a Predictive, Data-Driven Culture
Our data shows that nearly 40% of businesses will not survive this decade as their products will become irrelevant for customers. Finance must become the nerve centre of enterprise analytics- especially focusing on customers and product/service, geographic, performance in order to help CEOs act in a timely manner.
As businesses invest in digitalization and integrate more and more across functions, financial data becomes more real-time. By deploying an "enterprise digital KPI system", Finance can also provide objective status updates and 'what-if' information on progress, spending and ROI from investments.
---
Trianz has over 1.5M data points on digital transformation across industries - We bring a
data-driven approach to Finance operations transformation
Trianz has invested in creating Trasers, one of the world's largest databases on digital transformations with data from over 5,000 plus companies from 20 industries. We have spoken to more than 500 leaders in Finance to understand what transformations truly mean. As such we know where industries and companies within are in the continuum of transformations.
Our Finance Digital Transformation Data
Scope: Finance Current State, Vision, Priorities, Strategy, Investment Models, Technologies, Leadership and Change Management, ROI
Industry Segments -
Small Businesses, Medium Businesses, Emerging and Large Enterprises


State of Finance Transformations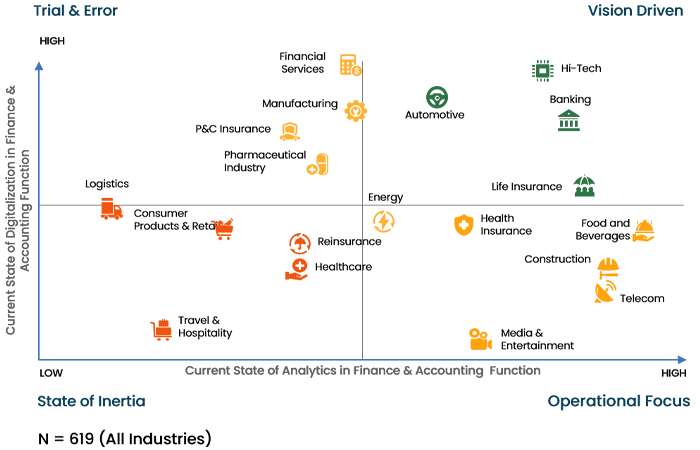 Across the globe- only 6% of Finance organizations or 'digital champions' as we call them, are delivering expected results from their initiatives. Using our Trasers digital transformation database, we bring a data-driven approach which abstracts the status, priorities, strategies, technologies, implementation models.
×