What does the transformation of Service Operations mean?
---
In a global study covering digital transformation across 20 industries, we asked over 600 leaders in Service management 'what does digital transformation mean to your organization?'.
50% of respondents said digital transformations means sharing more information about their service businesses works through better websites and portals. The other half of respondents in the group stated that they were either making changes across the existing services value chain or inventing a completely new, digitalized services model.

The digital transformation of Service operations begins with a seamless, real-time integration of services with product sales.
Second, it is about establishing digital connectivity with customers, partners and suppliers throughout the services value chain.
Finally, it is about anticipating by using analytics and delivering consistent and continuous experiences throughout the customer life cycle to result in automatic renewals and new purchases.

We will help your Service operations evolve into an integrated, KPI driven and predictive operation that results in customer satisfaction and retention
---
Digital Enterprise Evolution Model™ - Service Operations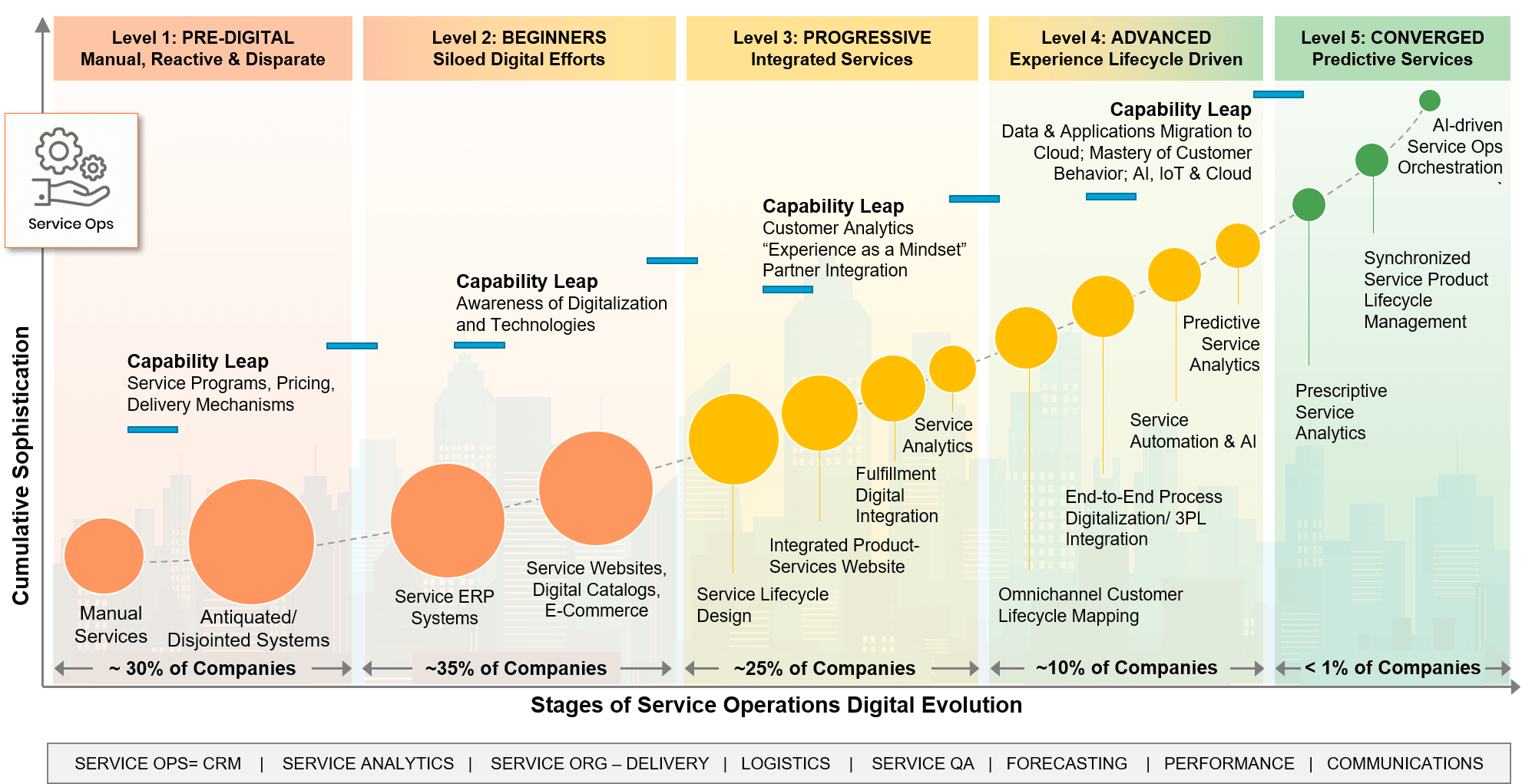 Copyright © 2022 Trianz
---
Historically companies paid more attention to sales transactions while viewing services as a 'post-sale support' function or a 'necessary headache' in some ways. The pendulum has now swung in the opposite direction.
A company's success in the digital economy is highly correlated with the number of touchpoints it has with a customer. The most successful businesses connect with their customers 10 times or more in a year. In digitalized enterprises, consistent, undisrupted and the experience of 'serving without being asked' has become the name of the game. This demands a high level of process digitalization upstream with Sales and Marketing and downstream with partners, suppliers and logistics providers, to ensure a seamless experience.
Highly successful Services organization that excel in providing 'expected services quietly', retaining customers and reap the rewards of new sales focus on the following themes.
These are the core transformation themes in which Trianz partners with clients in the Services function
---

Focus on Service Process Digitalization and Integration
Creating the right service programs and integrating them with Marketing and Sales to provide a unified view of value to customers is critical. Such an integration at all 'digital points of customer interaction' result in Services knowing what is expected of them well ahead of or right at the time of a sale.

Create Fully Integrated Service Logistics and Delivery Value Chains
We live in the age of digital acceleration which requires a minimization of control points in processes. Service operations should ideally play little or no role in the execution of service and this is only possible with high levels of integration with 3rd party providers, spares and logistics, depending on your business. A reverse integration with Marketing and Sales also keeps everyone in the organization abreast of the overall customer status automatically, creating better customer engagements.

Invest in Service Analytics to Reduce Customer Interaction
While it may be counter-intuitive, great service organizations endeavour to become 'all is well' organizations. This implies that they invest heavily in analytics to understand their customers down to an individual level and meet customer needs without being asked which promotes a concept of quiet reliability but available when needed.

Promote a Predictive, Data-driven Services Culture
Service are often used for driving costs down to meet profitability needs or improving on-time delivery. Holistic service analytics capabilities across customers, delivery partners, parts suppliers, 3PL providers will begin to tell you the root causes of all major issues and help you drive improvements across the value chain.
Predictive analytics also help in 'what if' analysis and set the agenda and priorities for iterative transformations that deliver near term results while improving the overall operation.