Run analytics on any data source
Trianz's new Athena Federated Query (AFQ) Extensions enable quick analysis of data from different sources such as Teradata, Google BigQuery, S3, Redshift and SAP HANA, among others. Combining the advantages of Amazon Web Services (AWS) serverless services with a pay-as-you-go plan, these extensions offer faster time to market, a low-cost POC and a quick scale to production -all with fewer lines of code.
When implementing Trianz's AFQ Extensions, there are numerous benefits to be had, including:
Access and analyze data from multiple sources with zero data movement

Build powerful data models and dashboards

Leverage AFQ on any visualization tool

Simplify the migration process with minimal disruption and cost

Easy deployment in any customer environment within minutes

Secure, reliable, easy and fast access to data views

Supports multiple data formats

Offers access to enough data for use in AI & ML initiatives

Faster time to market
Components of Trianz AFQ Extensions
Amazon's new Athena feature – federated query – enables quick and easy execution of SQL queries across data stored in several relational, non-relational, object and custom data sources. Using data source connectors that run on AWS Lambda; data scientists, engineers and analysts can analyze data from multiple sources running on-prem or the cloud with a single SQL query.
To illustrate, in the architecture diagram below, AFQ is using Lambda-based connectors to connect with on-prem and cloud-based data sources. Trianz AFQ Extensions scan data from S3 and execute the Lambda-based connectors to read data from on-prem Teradata, Amazon Redshift, Google BigQuery and SAP HANA to simplify BI and facilitate cross data-source analytics.
Trianz AFQ Extension - Architecture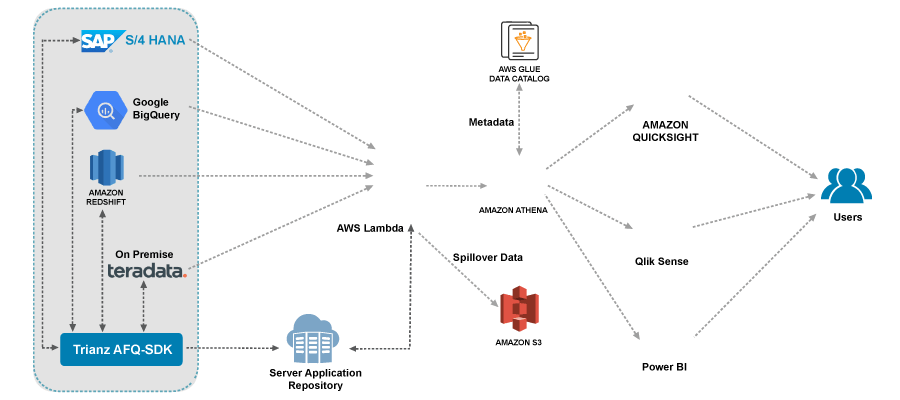 Implementation approach
Available in AWS Serverless Application Repository (SAR), Trianz's AFQ Extensions leverage Java, JDBC, Maven and CI/CD technologies. The integration of AWS SAR with AWS Identity and Access Management (IAM) provides resource-level control for our AFQ Extensions, enabling us to share applications with everyone publicly or privately through customer-specific AWS accounts.
As part of AFQ SDK, we have used the AWS secrets manager to store the access credentials and facilitated end-to-end data encryption and role-based access through VPN-enabled & AWS platform security. These connectors are fully compatible with the underlying partition strategies of vendor-specific data-sources to ensure real-time data optimization. They support connection multiplexing, i.e. multiple JDBC connections to the underlying data sources in line with the base feature of Athena - JDBC AFQ.
Athena connector flow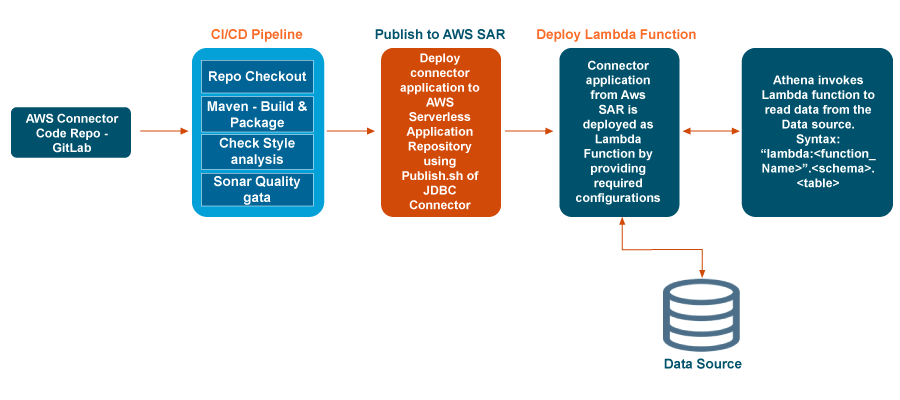 Our connectors and compatibility
Here is a set of connectors available from Trianz:
Trianz Teradata Athena connector compatible with Athena-JDBC

Trianz BigQuery Athena connector compatible with Athena-JDBC

Trianz SAP HANA Athena connector compatible with Athena-JDBC
Delivering business impact
With the digital transformation picking up pace, the need of the hour is a product that offers sustained value creation and does more than just cost savings. Find below the key transformational outcomes realized with Trianz AFQ Extensions:

Improved efficiency & reduced cost:
Trianz AFQ Extensions leverage the combination of zero infrastructure, straightforward implementation and faster response to perform federated query function, making it the best bet to improve efficiency and reduce operational costs.

Customer centricity:
With customer-centricity at its core, Trianz AFQ Extensions eliminate manual processes, adopt automation, enhance deployment capability and improve efficiency.

Direct deployment in the customer environment:
Trianz AFQ Extensions can be easily deployed in any customer environment because of their ability to access any data source across multiple AWS services - hybrid or multi-cloud.

Eliminates development effort for creating new connectors:
Connectors in Lambda are used as the backbone to run federated queries across data sources with Athena. AWS provides an SDK so engineers can build connectors to other data sources, eliminating development effort.

Faster time to market:
In data-intensive industries where volume and velocity play a significant role, Trianz AFQ Extensions, along with the existing technology ecosystem and seamless data extraction, can help accelerate time to market.

Zero business disruption:
Trianz AFQ Extensions are designed to work together within the existing ecosystem of software, hardware, infrastructure and tools, thus helping in the development of solutions with a significant positive impact on the business.
---
Book a demo
AWS has developed several connectors to meet business demands, and Trianz has committed to a roadmap of connectors for industry-leading data stores. Whether you need to deliver consistent, integrated data services or need a single platform or point of access across a choice of endpoints, it is important to have experienced professionals at every step of the way.
Trianz consultants can help you set up and deploy our AFQ Extensions to the next level. Contact Trianz to schedule a consultation and discover what we can do for you.